10 more highlights for W:O:A 2023 are lying under the Christmas tree!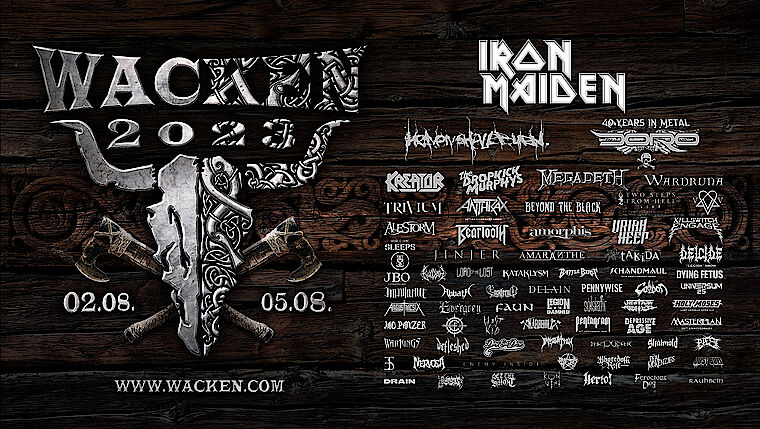 It's Christmas Eve and what might be lying under the Christmas tree?
We have a series of unique anniversary and farewell shows, one of the most famous German metalcore bands, the finest thrash and death and other exquisite gems. But see for yourself!
Beyond The Black
Shooting Stars? Germany's new Frauleinwunder revelation? In only seven years Beyond The Black stripped off all labels and became one of the hottest acts around the globe. Metal-Princess Jennifer Haben enchanted the fans worldwide and album by album the band climbed the stairway to the heaven - to be not a follower but now one third of the holy trinity of Female fronted Symphonic Metal. Let's welcome them back on our stages and celebrate with them the release of their newest self-titled oeuvre out in January!
Doro "40th Anniversary"
If you never stood in a crowd and raised a flaming lighter towards the stage while the lyrics to "Für Immer" touched your heart and soul - have you even lived?! No other female singer has shaped metal music like Doro. And that is not only for her smash hit, that became our soundtrack if we missed home or a loved one but for her bite, her good vibes, her uniqueness, her neverending output of high energy music that has accompanied some of us for all our musical journeys. Incredible 40 years on stage feel like an electric rush and to witness Doro and band presenting her career in a once in a lifetime headliner show will probably be one of THE most memorable shows of W:O:A 23. All hail the Queen!
Dust Bolt
Thrash Metal from Bavaria might not be where you usually place it, but if you never heard of Dust Bolt you clearly lived under a rock the last 10 years. Being the young teenage dirtbags they were, they won our Metal Battle 2011 and then set out to conquer the world. Amongst their crusades were US and Canada tours with legends Obituary and Exodus. This year they are working on becoming legends themselves: New bandmember, new songs, new beginnings! Best place to present the whole package: Wacken 2023!
Dying Fetus
"Doesn't matter what you say, we are against it" - This could be a motto Dying Fetus are grounding their brutal death-metal on since their birth in the early nineties. Cancerous they have been fiercely creating a counter-culture soundtrack that bites through various styles but remains merciless. This year they finally decided to dangle a carrot in front of the hungry crowd in form of a new track, after staying in their womb for five years. We are excited to hear the new album that is supposed to drop in 2023.
Heaven Shall Burn
Thuringia in Germany is known for its dark forests and the old word jugglers Goethe and Schiller. Maybe that is the perfect soil for one of the most prolific Metalcore bands to sprout into the world like jack's beanstalk. Heaven Shall Burn's message remains authentic and highly political. Their lyrics are more important than ever, their sound versatile, highly intelligent without losing that round-house kick directly in the face. We are proud that Wacken and HSB has become such a strong union during their journey and are more than excited to see them now grace one of the top spots of our billing list!
Holy Moses "Last German Open Air"
Heavy, heavier, Sabina Classen! If you are a true metalhead your path had to cross this dark queen and her army. Many times we welcomed Holy Moses on our stages and every show has been a unique and memorable experience. I guess you can say that Holy Moses and Wacken have become quite a dream team and it is with more than a black tear in our eyes to announce that this will be their last German Open Air show ever. Expect the unexpected! If you know Sabina, you can be sure of that!
Kreator
Mille Petrozza ist ohne Zweifel einer der interessantesten Frontmänner im Metal: Er ist seit 40 Jahren Frontröhre von Deutschlands größtem Thrash-Export Kreator, taucht seine Zehen gehne mal in eine Reihe genreübergreifender künstlerischer Unternehmungen, ist seinen Wurzeln in seiner Heimatstadt mehr als treu geblieben und nimmt auch kein Blatt vor den Mund, lieber mal eine Yogamatte und ein gutes Buch der wilden Aftershow-Party vorzuziehen (oder am Ende eben beides zu machen ;-) ). Kreator sind "Kult" und festigen mit jedem neuen Album ihren Status als solcher. Sie haben gerade "Hate über alles" veröffentlicht und wir hoffen, dass sie akzeptieren, wenn wir im Gegenzug "Love über alles für Kreator" antworten.
Masterplan "20th Anniversary"
There once was rumble in Deutschland and one of the biggest metal bands smashed like a pumpkin on the wall to pieces and "Bam!" just like that Roland Grapow and Uli Kusch left Helloween and formed Masterplan. No surprise that nothing bad could come out of these genes and Masterplan became a steady pillar on the seas between melodic and power metal. After 20 years Masterplan are still going strong and will salute us with new and old material and Swedish powerhouse Rick Altzi on vocals. You all know what that means!
Universum 25
I guess you could call this a true supergroup: Robert Rhein (In Extremo), Rupert Keplinger (Eisbrecher), Pat Prziwara (Fiddler's Green), Gunnar Schroeder (Dritte Wahl) und Alex Schwers (Slime). Powering rock guitars, atmospheric electronica and "Frei Schnauze" lyrics in the style of protest-songs that need to be sung and heard again: This is Universum 25.
VV
Here comes the return of the dark prince! Five years after a a flood of tears marked the split of Finnish Dark Rock Superstars HIM, we welcome Ville Valo, who modestly just calls himself VV now, back on the scene to fill the black infinite hole he himself created. Noone has ever managed to come close to the distinct Gothic Rock and even though we already know that his solo-return is going to be nothing like a HIM revival, we will hold the heartagrams on our wrists proud in the air!
And here are the X-Mas Calendar winners form December 18th to 23rd, 2023:
18.12.: Johann B from Solingen
19.12.: Max P from Innsbruck (Austria), Frank I. from Saterland, Sebastian R from Bochum, André H from Neuss, Emil B. from Hamburg
20.12.: Markku L from Ylöjärvi (Finland), Jannes S. from Lüneburg, Michael W. from Högsdorf, Dennis S. from Hårlev (Denmark), Martin H. from Praha-Suchdol (Czech Republic)
21.12.: Doreen E. from Paderborn
22.12.: Katja E. from Dresden, Andreas S. from Winzer, Ralf M. from Bad Oldesloe, Tanja K. from Lengede, David G. from Stolberg
23.12.: Kai P. from Bad Oldesloe, Mayleen S. from Hamburg, Tom K. from Elmshorn, Hans V. from Drunen (Netherlands)
Today the last prize which is another amazing signed W:O:A guitar will be raffled! If you want a chance to win it ,then visit our calendar at xmas.wacken.com!
yours
W:O:A team!