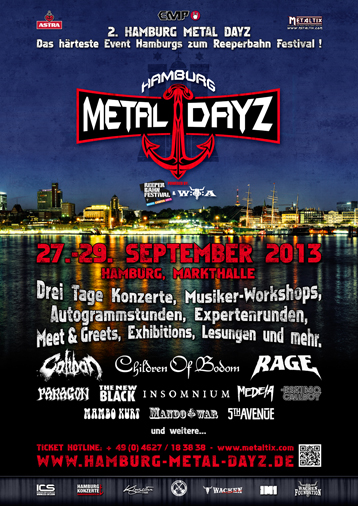 W:O:A and Reeperbahn Festival present:
2. HAMBURG METAL DAYZ
Sep 27-29, 2013 - Markthalle Hamburg, Germany
Hey Metalheads!
From September 27th to 29th, the world of Heavy Metal will be part of the Reeperbahn Festival once more: The Hamburg Metal Dayz at the Markthalle are a forum for fans, up-and-coming rockers and business professionals.
During three days, approx. 13 bands from the harder range of music will play, among them heavy hitters like Children Of Bodom, Rage, Caliban, Eskimo Callboy, Insomnium and The New Black. In panels and roundtable discussions, music business insiders will share their knowledge, while well-known players will be showing licks & tricks during workshops for musicians. There will be exhibitions, readings and signing sessions, where fans can meet the artists. The finals for the "Robert Johnson Guitar Award" (worth 10.000€) will also be held at the Markthalle. Jury members include guitar virtuoso Uli Jon Roth.
Gathering at the Hamburg Metal Dayz will not only be concert goers and musicians, but also professionals of the Metal business. For those, another point of interest will be the Reeperbahn Festival Campus with conference program, networking events and showcases. Accreditation is needed (see below).
The first Hamburg Metal Dayz in September 2012 were enjoyed by more than 3000 visitors. The second edition once again sees two festivals - both internationally renowned, but each with its own distinctive musical identity - joining forces.
Holger Hübner from W:O:A: "We're looking forward to introducing Heavy Metal to the Reeperbahn Festival for a second time – with great shows for the fans and opportunities for labels, promoter and agents to get together, even beyond the Metal scene."
This makes the Hamburg Metal Dayz equally entertaining and valuable for fans and insiders alike. An updated list of bands and activities can be found unter "Bands" and "Schedule".
Pre-sale will start on Wednesday, July 3rd. Day tickets cost 28,50€ including fees and are available via www.metaltix.com, the Metaltix hotline +49 4627-183838 and other ticket outlets. Limited two day tickets for (45€ incl. fees) and three day tickets (67€ incl. fees) can be purchased via Metaltix exclusively.
Delegates and accredited journalists of the Reeperbahn Festival get free access to the Markthalle. Invited industry representatives of the Hamburg Metal Dayz can obtain reduced accreditations to the Reeperbahn Festival including all B2B events.
W:O:A and Reeperbahn Festival presents:
Hamburg Metal Dayz
27.-29.9.2013 - Hamburg, Markthalle
powered by EMP
in cooperation with Astra, iM1, Wacken Inside, Hamburg Konzerte, Kingstar Music, Wacken Foundation and ICS Festival Service
with: CHILDREN OF BODOM + CALIBAN + RAGE + ESKIMO CALLBOY + INSOMNIUM + THE NEW BLACK + PARAGON + MEDEIA + 5th AVENUE and more