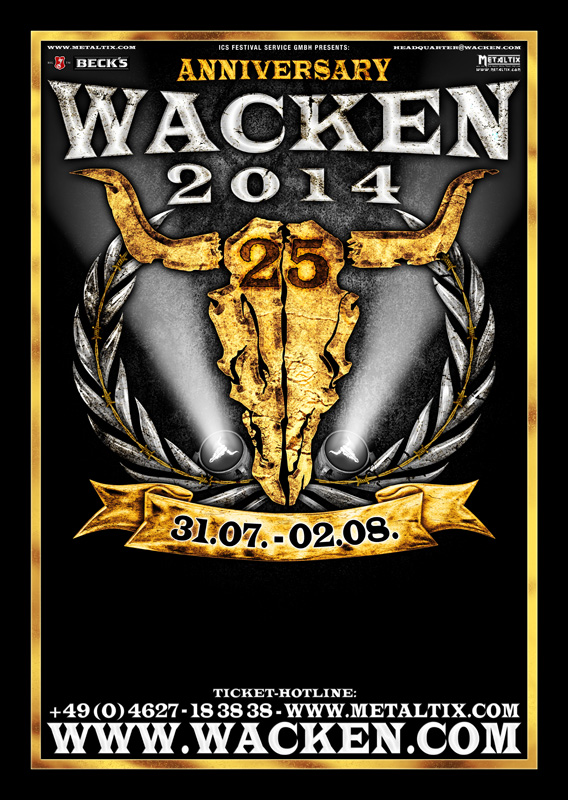 25. Wacken Open Air – X-Mas Tickets Sold-Out
Dear metalheads,
the X-Mas-Package for Wacken Open Air 2014 is sold out!
Herewith we want to thank you all for your fantastic support and loyalty during the past decades.
For the 25th Anniversary in 2014 we will again present a high class line-up with many highlights and great side attractions. The planning is running on high speed and we´ve already been able to announce some highlights:
Amon Amarth
Apocalyptica & Orchestra
Arch Enemy
Avantasia (Only German Festival Show 2014)
Behemoth
Children of Bodom
Emperor – In The Nightside Eclipse 20th Anniversary – The Final Show
Iced Earth
King Diamond
Kreator
Prong
Schandmaul
The tickets are only available at Metaltix.com!
3-Days-"ALL IN"-Ticket = 160,00 EUR
incl. sales tax plus 10,00 EUR advance booking fee
Until the 31st of August 2013 you have also an option to buy the optional and exclusive Anniversary shirt for just 14,99€ - you can buy one shirt per ticket and all fees are already included! This special offer is meant as a "thank you" for your amazing support! The shipping of the t-shirts will be handled by our partner EMP and will start earliest on 01st of September 2013.
Each purchaser can only order 5 Tickets!
ATTENTION: The tickets are personalized, every ticket will have a printed name on it. You can find all information HERE!
We remain true to our principles – If it´s SOLD OUT then it is really SOLD OUT. That´s why no one day tickets are planned for 2014. Please make sure to get your tickets in time.
See you in Wacken – rain or Shine!
Your W:O:A Team