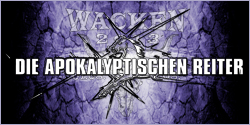 Advent calendar 2012 starts with "Die Apokalyptischen Reiter"
The band behind door number one is none other than Die Apokalyptischen Reiter!
Again, the five horsemen will fall in at the festival to unleash their Reitermania over Wacken with their intensive show where everyone is forced to jump, scream and sing! Since their first appearance at Wacken in 2001, the band came back in four additional years. In 2007 they recorded their show for the DVD "Tobsucht – Reitermania over Wacken and Party.San". It's hard to limit the band to one genre. They use elements of black, death, thrash, folk and power metal and combines theme to a unique wall of sound, which is meant to unleash the adrenaline of the fans.
More about the band at Billing/Bands
Tomorrow we will announce another Band and the next lottery question in our calendar!