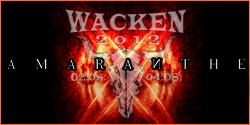 Amaranthe & Eisenherz on 16th of December
Amaranthe this swedish/danish band will play next year for the first time at Wacken. They combine elements from melodic death metal & power metal which culminate in an atmospheric mix of dark melodies with deep growls and silent melodic parts accompanied by the voice of female singer Elize.
More under Billing/Bands
Eisenherz presents their own version of German medieval rock music. Songs like "Flieg mit mir" and "Die Seele brennt"combine soft sounds and the deep voice of singer Karl Zürl.
Mehr unter Billing/Bands
And here are the x-mas winners from the 15th of december 2011:
Timo M - Petersberg
Liliana angélica B - Jever.
Stephan W - Trimbach (Switzerland)
Tor S - Lyngby (Denmark)
Alexandre G - Amiens (France)
All winners were already informed by mail!
Tomorrow we will announce the next band and xmas winners!