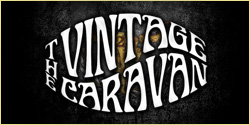 Another double package on the eight day of the Advent calendar
Another day with two new bands for W:O:A 2014. And both bands are looking forward to their first W:O:A performances.
The Vintage Caravan
Classic rock is back in action and the Vintage Caravan members knew this extra early. In fact, it was in 2006, when each of them was only 12 years old. The band has already the reputation to be a great live act and it's time for their first album as well – and this will be released in January 2014.
More at Billing/Bands
Fleshgod Apocalypse
... are playing technical and brutal death metal tooled with melodic and even classical elements and even samples. Until now, the Italians have released three studio albums. The last one was Labyrinth and it was released earlier this year.
More at Billing/Bands
And here are the x-mas winners from the 7th of december 2013:
Theresa M - Geislingen
Marc T - Kiel
Katharina V - Munster
Christian E - Bochum
Bianca W - Kronshagen
All winners were already informed by mail!
Tomorrow we will announce the next band and xmas winners!