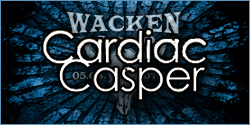 Band deployment in the metal market tent
In our well known Metal Market tent you not only have the possibility to get merchandise but also a blast through your ears!
With Rezet, Lower Than Zero and Cardiac Casper you will get 3 further bands , acting from alternative to death metal to grindcore, which will blow-dry your hairs!
Don´t miss it!
BandInfo: