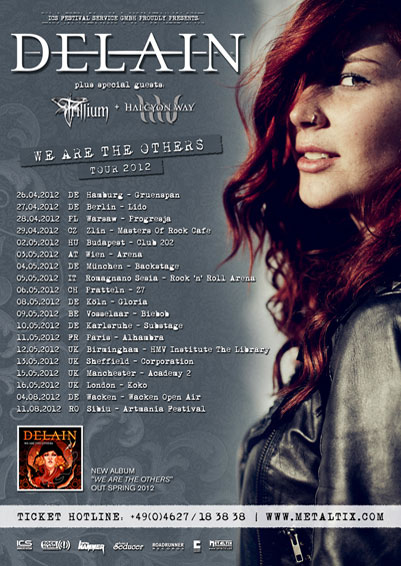 Delain - We Are The Others Tour + "Get The Devil Out Of Me" Video
Only a few days are between us and the Delain Europe tour 2012. The gothic metal band from the Netherlands is going to present their new album "We are the others" on this tour, which will be released shortly after the tour. Besides the single "Get The Devil Out Of Me" is already been released since the 13th of April (15th of April in UK). The Album will contain twelve songs and the title song is inspired by the murder of Sophie Lacaster and is meant as a hymn for outsiders.
The band is going to start their tourney in the Grünspan in Hamburg and this will be the starting signal for a series of concerts on club and festival stages all around Europe. On their list are besides concerts in London, Paris also several German towns. They will be supported by Trillium and Halcyon Way.
The Video for "Get The Devil Out Of Me" can be watched here:
<object style="height: 390px; width: 640px"><param name="movie" value="http://www.youtube.com/v/rR7KkbO-BM0?version=3&feature=player_detailpage"><param name="allowFullScreen" value="true"><param name="allowScriptAccess" value="always"><embed src="http://www.youtube.com/v/rR7KkbO-BM0?version=3&feature=player_detailpage" type="application/x-shockwave-flash" allowfullscreen="true" allowScriptAccess="always" width="640" height="360"></object>
"We Are the Others Tour" Part 1
26.04.2012 GER Hamburg Gruenspan
27.04.2012 GER Berlin Lido
28.04.2012 POL Warsaw Progresja
29.04.2012 CZE Zlin Masters Of Rock Cafe
02.05.2012 HUN Budapest Club 202
03.05.2012 AUT Wien Arena
04.05.2012 GER München Backstage
05.05.2012 ITA Romagnano Sesia Rock 'n' Roll Arena
06.05.2012 SWI Pratteln Z7
08.05.2012 GER Köln Gloria
09.05.2012 BEL Vosselaar Biebob
10.05.2012 GER Karlsruhe Substage
11.05.2012 FRA Paris Alhambra
12.05.2012 GBR Birmingham HMV Institute The Library
13.05.2012 GBR Sheffield Corporation
15.05.2012 GBR Manchester Academy 2
16.05.2012 GBR London Koko
04.08.2012 GER Wacken Wacken Open Air
11.08.2012 ROM Sibiu Artmania Festival
Tickets for german shows are available on www.metaltix.com
Ticket Hotline: +49 (0) 4627 - 183838