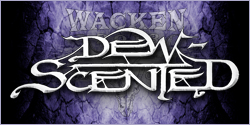 Dew-Scented behind door number four
Door number four hides the German thrash metal band Dew-Scented.
The band, which was found in 1992 played in Wacken for the first time in 1998. And now they will return for their fourth performance in Wacken! Since their first appearance, the band released several albums and several members of the band were exchanged. The last remaining member who was part of the first line up is singer Leif Jensen by now. But the sound of the band didn't suffer from these changes and fans of modern thrash metal should take a look at this band for sure.
More information is available at Billing/Bands
And here are the x-mas winners from the 3rd of december 2012:
Nadjeschda B - Eppelheim
Elke J - Meißner
Dennis H - Greven
Torsten B - Fehmarn
Oriol R - Barcelona (spain)
All winners were already informed by mail!
Tomorrow we will announce the next band and xmas winners!