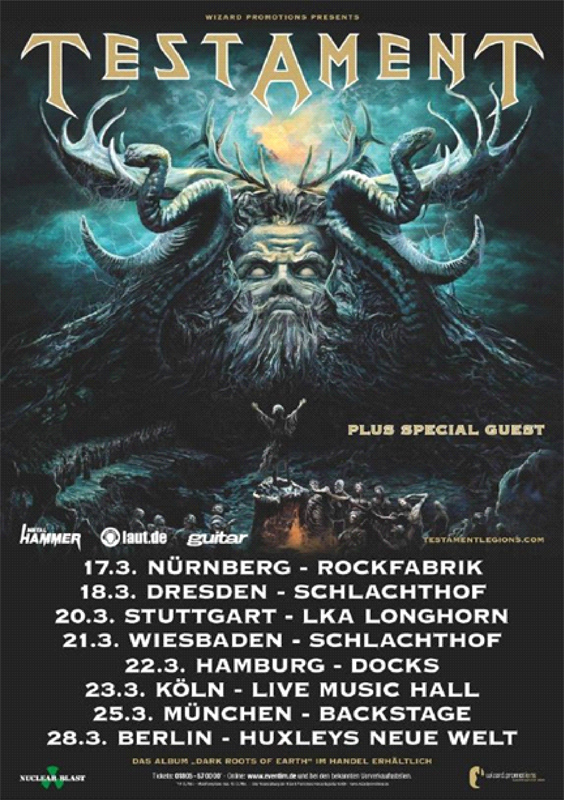 Dew-Scented supporting Testament on Tour!
German Thrashers DEW-SCENTED have announced via their homepage that they will support TESTAMENT as Special Guest on their upcoming tour.
Here is the statement of the band:
"Hey Thrashers,
Today we bring you the great news that Dew-Scented have been confirmed as "special guests" for selected shows of the upcoming "Dark Roots Of Earth" European tour of Thrash Metal icons Testament. Steel Engraved will be opening and the exact shows with our participation are as follows:
Testament + Dew-Scented & Steel Engraved:
Sat 17.11.2012 Pilsen (Czech Republic) – Serikova
Sun 18.11.2012 Wels (Austria) – Alter Schlachthof
Mon 19.11.2012 Prague (Czech Republic) – Retro Music Hall
Tue 20.11.2012 München (Germany) – Backstage
Thu 22.11.2012 Graz (Austria) – Orpheum
Fri 23.11.2012 Bratislava (Slovakia) – Majestic Club
Sun 25.11.2012 Bochum (Germany) – Matrix
After the dates with Six Feet Under, the summer festivals and the recent hometown show and awesome party in Walsrode, we now look forward to making this another great run of show in support of the "Icarus" album, especially since Testament has always been an influential band and personal favourite for the Dew-Scented members!
Here are some online links for you to check out some music off "Icarus" and more:
"Sworn To Obey": www.metalblade.com/dew-scented/ or www.youtube.com/watch?v=GT4xc3-0_SE
"Thrown To The Lions" Drum-Play-Through Video: vimeo.com/47957520
"Storm Within" Lyric-Video: vimeo.com/47960533
"Soul Poison" live at Summer Breeze 2012: www.youtube.com/watch?v=LhujiR0xkJ
Help us spread the word and see you out there soon for some serious thrashing…"
Tickets are available at www.metaltix.com
Ticket-Hotline: (0) 4627 / 18 38 38