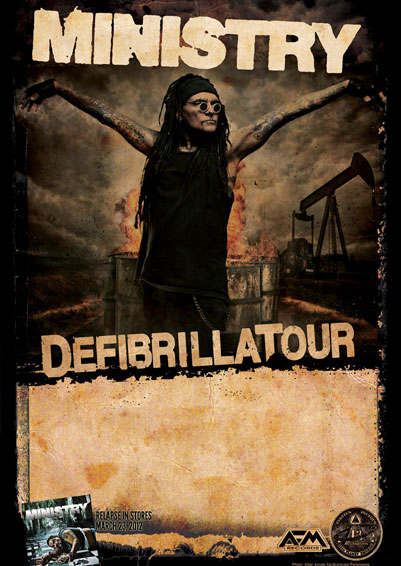 Djerv as official support at Ministry's "Defibrilatour 2021"
The Norwegian up-and-comer band Djerv is going to exclusively support Al Jourgensen and his industrial metal heroes Ministry at their European tour. Djerv released their consistently high rated debut album last year and stormed on the 8th place of the Norwegian charts instantly. The band members aren't unknown in the scene. For example, singer Agnete Kjølsrud was also the singer of Animal Alpha and also appeared as guest musician in Dimmu Borgirs video "Gateways". Other members played at Trelldom and Stonegard.
There's not much more to be said about Ministry, they are classified as the inventor of industrial metal and a pioneer of the modern metal sound in general. In their baggage is their comeback album "Relapse", which will be by all appearance the hardest album of the band. It will be released at the end of March. You can get a first impression by listening to their single "DOUBLE TAP" which was released back in February.
With Ministry and Djerv an unusual but powerful combo is going to hit the road. No doubt they will leave some open mouth behind – both bands are well known for their intensive live shows. Absolutely don't miss it!
If you want to get an idea of Djerv, check out their debut music video "Madman here.
<object style="height: 390px; width: 640px"><param name="movie" value="http://www.youtube.com/v/Rq3FAy-JTAg?version=3&feature=player_detailpage"><param name="allowFullScreen" value="true"><param name="allowScriptAccess" value="always"><embed src="http://www.youtube.com/v/Rq3FAy-JTAg?version=3&feature=player_detailpage" type="application/x-shockwave-flash" allowfullscreen="true" allowScriptAccess="always" width="640" height="360"></object>
TOUR DATES
Ministry – "Defibrillatour 2012"
Support: Djerv
04.07.2012 NOR Oslo Rockefeller
08.07.2012 GER Hamburg Docks
10.07.2012 GER Leipzig Werk 2
12.07.2012 NED Tilburg O13
16.07.2012 GBR Bristol Academy
17.07.2012 GBR Belfast Mandella Hall
18.07.2012 IRE Dublin Vicar Street
20.07.2012 GBR London The Forum
21.07.2012 GBR Manchester Academy
24.07.2012 ESP Madrid Riviera
25.07.2012 ESP Bilbao Rockstar
28.07.2012 FRA Paris La Cigale
31.07.2012 SWI Luzern Konzerthaus Schüür
Tickets for the german shows are available at www.metaltix.com
Ticket-Hotline: +49 (0) 4627 - 18 38 0
INFO - MINISTRY
www.thirteenthplanet.com/ministry/
www.youtube.com/user/MINISTRYMUSIC
INFO - DJERV