Djerv – Support Ministry + Headline European Tour + New Video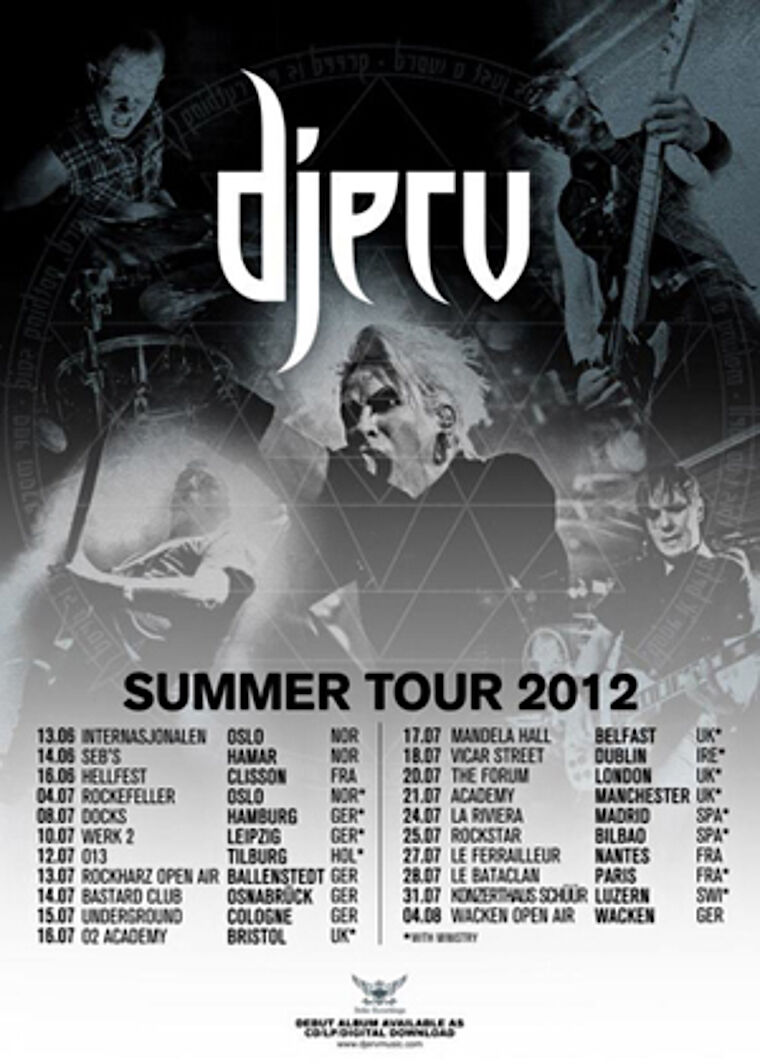 Djerv are unstoppable! As announced before the Norwegian band Djerv will, besides several festival appearances go on tour as Support of industrial legends Ministry.
In December the first official headliner tour will follow. Djerv will be supported by Dunderbeist plus one additional act which isn´t announced yet.
Furthermore the band has released their second video clip for the hit single "Headstone":
<object style="height: 213px; width: 350px"><param name="movie" value="http://www.youtube.com/v/jt4H824qcQw?version=3&feature=player_detailpage"><param name="allowFullScreen" value="true"><param name="allowScriptAccess" value="always"><embed src="http://www.youtube.com/v/jt4H824qcQw?version=3&feature=player_detailpage" type="application/x-shockwave-flash" allowfullscreen="true" allowScriptAccess="always" width="350" height="213"></object>
DJERV – Festival Dates &
Defibrillatour as support of Ministry
16.06.2012 FRA Clisson Hellfest
04.07.2012 NOR Oslo Rockefeller *
08.07.2012 GER Hamburg Docks *
10.07.2012 GER Leipzig Werk 2 *
12.07.2012 NED Tilburg O13 *
13.07.2012 GER Ballenstedt Rock Harz Open Air
14.07.2012 GER Osnabrück Bastard Club
15.07.2012 GER Köln Underground
16.07.2012 GBR Bristol Academy *
17.07.2012 GBR Belfast Mandella Hall *
18.07.2012 IRE Dublin Vicar Street *
20.07.2012 GBR London The Forum *
21.07.2012 GBR Manchester Academy *
24.07.2012 ESP Madrid Riviera *
25.07.2012 ESP Bilbao Rockstar *
27.07.2012 FRA Nantes Le Ferrailleur
28.07.2012 FRA Paris La Cigale *
31.07.2012 SWI Luzern Konzerthaus Schüür *
04.08.2012 GER Wacken Wacken Open Air
*/w MINISTRY
Tickets for all German shows with Ministry can be purchased under www.metaltix.com
DJERV
special guest: DUNDERBEIST
+ support act
12.12.2012 GER Hamburg Hafenklang
13.12.2012 GER Dortmund FZW
14.12.2012 NED Eindhoven Eindhoven Metal Meeting
15.12.2012 FRA Paris La Scène Bastille
16.12.2012 GBR London Underworld
18.12.2012 SWI Zürich Dynamo
19.12.2012 GER München Backstage
20.12.2012 GER Stuttgart Keller Klub
21.12.2012 GER Siegen Vortex
22.12.2012 GER Peine Zum alten Krug
Tickets for the winter tour dates are also available under www.metaltix.com
Ticket-Hotline: +49 (0) 4627 - 18 38 0
Djerv-Web
New Video:
www.youtube.com/watch?v=jt4H824qcQw
Dunderbeist-Web