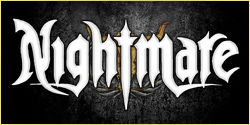 Door No. 18: Two Wacken veterans as new announcements!
Today we can present you another 2 bands in our X-Mas calendar.
Nightmare
The French metal band Nightmare was founded in 1979 and called the attention of the labels during a support show for Def Leppard. In 1988, the band split up. But they successfully reunited in 1999 and now they will rock Wacken for the fourth time!
More aboout the band at Billing/Bands
Santiano
Shanty rock from Germany: Santiano are still breaking records and after the celebrated shows at W:O:A 2012 and 2013, they will return for 2014 again!
More about the band at Billing/Bands
And here are the x-mas winners from the 17th of december 2013:
David L - Oberursel
Fabian B - Berlin
Sonja C - Rauenberg
Mona L - Rendsburg
Tabea K - Erkrath
All winners will be informed by mail!
Tomorrow we will announce the next band and xmas winners!