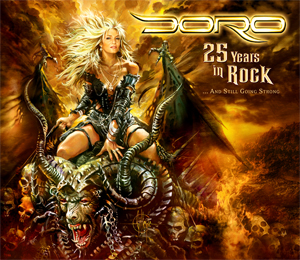 Doro – 25 Years in Rock DVD
The 26th of October is the day! Doro is going to release her new Live DVD DVD "25 Years in Rock". Most of the material was recorded on the 13th of December 2008 during her 25th Anniversary show at the ISS Dome in Düsseldorf.
But the Queen of Metal wasn´t all alone. Musicians like Klaus Meine (Scorpions), Axel Rudi Pell, Tarja Turunen and many more supported her.
This masterpiece will be released as a double dvd + CD with more than 6 hours movie, tons of bonus material and livetracks
Content: "25 Years In Rock"
DVD 1
- The Concert '25 Years in Rock'
DVD 2
- The Documentary '25 Years in Rock'
- Extra Features: 01. 2500th Concert 02. China Special 03. Wacken Open Air 2009: I. I Rule The Ruins II. Burning The Witches III. Burn It Up 04. Bang Your Head 2010: I. Egypt [The Chains Are On] II. Running From The Devil 05. Summer Breeze 2007: You're My Family feat. Chris Caffery 06. Metal Female Voices Fest 2009: I. True As Steel II. Hellbound III. We Are The Metalheads 07. TV Special: 2500th Concert 08. TV Special: A tattoo from Doro at Germany Ink
Bonus Live CD
- 11 Special Tracks from the 25th Anniversary Show
Do not miss this unique live DVD!
A trailer can be found here:
http://www.youtube.com/watch?v=9TrrOCAzAy8
Anyone who wants to see Doro live in this year can do this on one of the following dates:
30.11.2010 GER Düsseldorf Phillipshalle
01.12.2010 GER Hannover AWD Hall
03.12.2010 GER Trier Arena
04.12.2010 GER Stuttgart Schleyerhalle
07.12.2010 GER Berlin Arena Treptow
08.12.2010 GER Wiesbaden Rhein-Main Halle
10.12.2010 GER Chemnitz Arena
11.12.2010 GER München Zenith
13.12.2010 SWI Winterthur Eishalle Deutweg
15.12.2010 GER Bremen Aladin
16.12.2010 GER Kiel Max
18.12.2010 GER Limburg Stadthalle
19.12.2010 GER Ludwigsburg Rockfabrik
21.12.2010 GER Augsburg Spectrum
22.12.2010 LUX Esch / Alzette Rockhal
23.12.2010 SWI Pratteln Z7
26.12.2010 GER Nürnberg Hirsch
27.12.2010 GER Gießen Hessenhalle
29.12.2010 GER Crailsheim Sporthalle
30.12.2010 GER Burglengenfeld VAZ
07.04.2011 SWE Stockholm Swedenrock Cruise
17.06.2011 FRA Clisson Hellfest
/w Motörhead from 30.11 until 13.12.2010
Tickets are avalable on www.metaltix.com