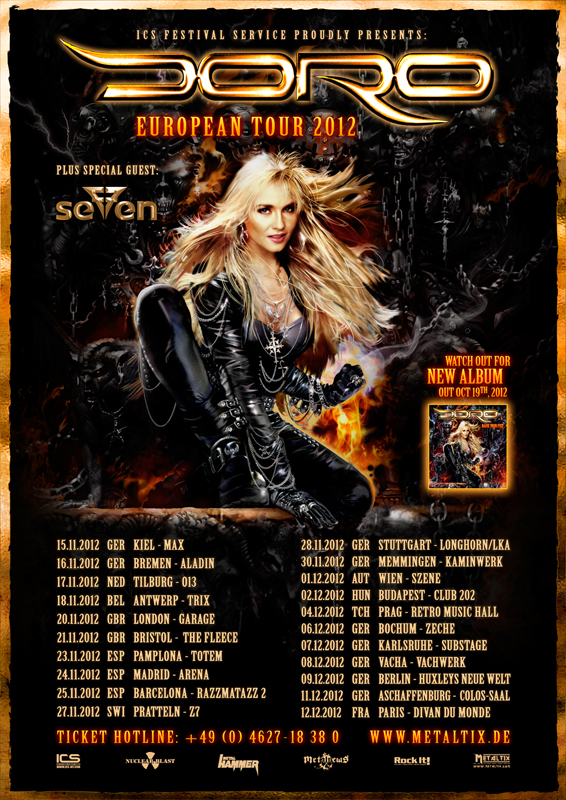 Doro – European Tour 2012
In November the German Queen of Rock – Doro Pesch – will go on European tour again!
Meanwhile the support band was also confirmed – SEVEN will rock together with Doro on tour.
Further 2 new dates (Bristol and Aschaffenburg) were added to the tour and the Paris show was rescheduled to the 12th of December 2012.
The new album "Raise Your fist" will be released on 9th October through Nuclear Blast Records.
DORO - WINTER TOUR 2012
Support: Seven
15.11.2012 GER Kiel Max
16.11.2012 GER Bremen Aladin
17.11.2012 NED Tilburg O13
18.11.2012 BEL Antwerp Trix
20.11.2012 GBR London Garage
21.11.2012 GBR Bristol The Fleece
23.11.2012 ESP Pamplona Totem
24.11.2012 ESP Madrid Arena
25.11.2012 ESP Barcelona Razzmatazz 2
27.11.2012 SWI Pratteln Z7
28.11.2012 GER Stuttgart Longhorn/LKA
30.11.2012 GER Memmingen Kaminwerk
01.12.2012 AUT Wien Szene
02.12.2012 HUN Budapest Club 202
04.12.2012 TCH Prag Retro Music Hall
06.12.2012 GER Bochum Zeche
07.12.2012 GER Karlsruhe Substage
08.12.2012 GER Vacha Vachwerk
09.12.2012 GER Berlin Huxleys Neue Welt
11.12.2012 GER Aschaffenburg Colos-Saal
12.12.2012 FRA Paris Divan Du Monde
Tickets for german shows at www.metaltix.com
Ticket-Hotline: +49 (0) 4627 - 18 38 0
All further Doro info under:
www.youtube.com/watch?v=E4qwuFabrLs&feature=related
www.youtube.com/watch?v=4UlxB3hShSI&feature=related
www.youtube.com/watch?v=aQQzpDBVGu8