Doro – the concert of her life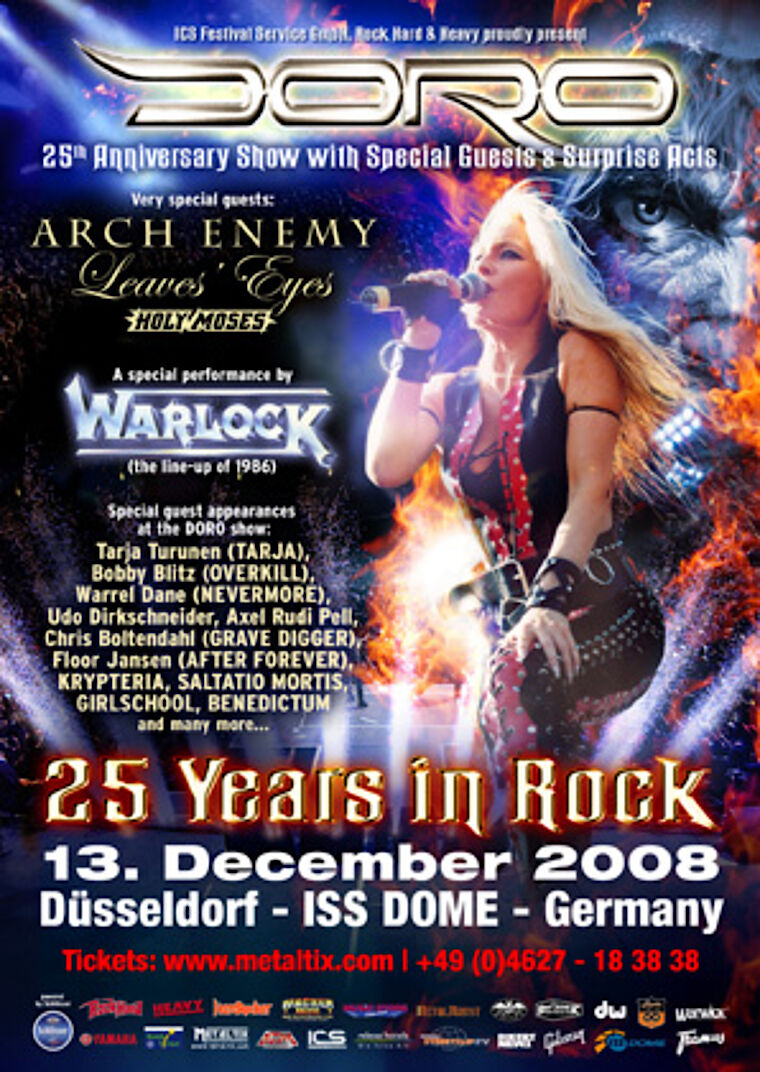 Duesseldorf (December 14, 2008) - More than 8.000 enthused fans from all over the world, more than three hours of rock with a lot of musical highlights, a sensational stage design, famous guests and a wild After-Show-Party – in short: Duesseldorf experienced Saturday night an unforgettable event in the ISS Dome: The 25th stage anniversary of Doro Pesch.
"Doro was incredibly good, she´s a real Rock fairy", praised Scorpions singer Klaus Meine, who thrilled the ISS Dome – in a duet with Doro – with his world hits "Rock You Like A Hurricane" and "Big City Nights". Band mate Rudolf Schenker added: "The secret of Doro´s 25 years of success is her total dedication for the music and for her fans. Doro is authentic and she lives her songs. You feel that."
Doro herself explained exhausted but overjoyed: "That´s exactly how I wanted my anniversary to be. It was the longest, most amazing and best show we´ve ever played. I thank everyone who contributed to that – especially my loyal fans."
The last comment was made by box world champion Regina Halmich, the lady who opened the evening for her friend Doro as the announcer: "It was such a fantastic evening. Doro deserved this terrific success, she is an extremely warm hearted and honest person. I´m glad that Doro could experience this unforgettable evening in her home town like she imagined and deserved it."
By the way: The big Doro night ended 6.30 in the morning at the bar of the official Doro quarters, the "Relexa-Hotel" in Ratingen.