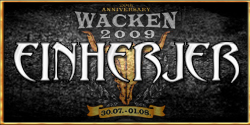 Dear Metalheads,
Norwegian viking metal legend Einherjer has announced some exclusive reunion shows for 2009. One of those will take place at the Wacken Open Air 2009. The band has issued the following statement:
Dear Metalheads!
"Einherjer will return in 2009 to do some selected shows across Europe.
We're proud to announce that Wacken Open Air has invited us to raise our heathen fists together with the most dedicated metal fans in the world.
See you at Wacken next summer!"
More infos about the band at Billing/Bands
Your
W:O:A Team