Important
This article is VERY old (older than 2 years)!
End of the 1st Full Metal Cruise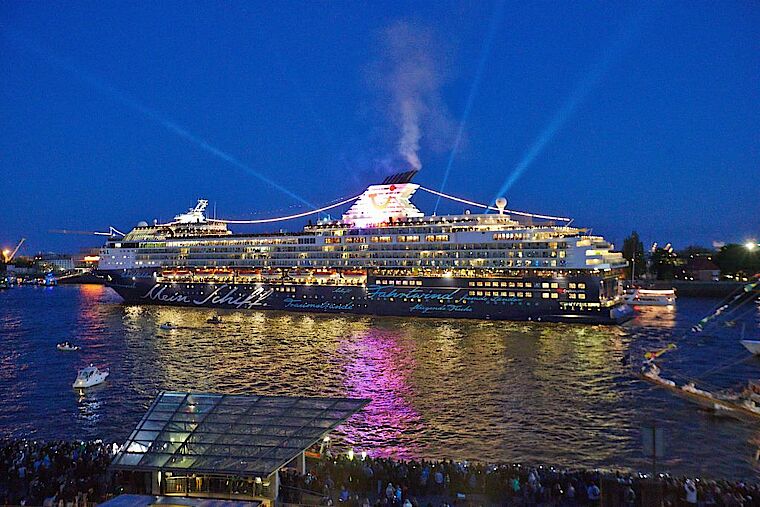 Hamburg, May 12, 2013. Louder than hell – that was the theme as the Mein Schiff 1 arrived at the harbor in Hamburg yesterday evening. With the 50.000 watt sound system and the space canons the cruise ship couldn't be missed by the visitors of the 824. Hamburg Hafengeburtstag at the Landungsbrücken in Hamburg. With the anthem "Hard on the wind" which was especially composed for the cruise, performed on the pool deck by the Full Metal Allstars the first and biggest Heavy Metal cruise of Europe ended. Like this the visitors in the harbor in Hamburg experienced what the musical program on board was like.
Almost 2.000 metal fans, mostly cruise freshman, were on board of the Full Metal Cruise, traveling through Northern Europe and experiencing over 20 bands on three stages plus land concerts in Southampton, Le Havre and Amsterdam. The program on board was extensive - it included a daily late night show with star guests and Metal bingo, as well as Metal karaoke, Metal fashion show, readings, workshops, jam sessions, meet&greets and a cooking show with the well-known German cook Tim Mälzer. But also the wellness program of the ship was greatly appreciated. The metal heads tried the different restaurants and bars, enjoyed the spa facilities and relaxed with cold drinks at the pool deck on sea days.
On May 5 the Full Metal Cruisers were send on their way by the Wacken Firefighters which also welcomed the Metal fans at the cruise terminal in Altona yesterday. At the same time a special guest came on board of the Mein Schiff 1: D-A-D from Denmark fired up the cruisers at the theater stage on board. Today morning several trucks arrived and the 10 000 tons of extra technical equipment especially brought on board for the cruise, was unloaded.
Both of the organizers are fully satisfied
TUI Cruises and ICS draw a positive conclusion about the cruise. In the next few weeks the event will be evaluated and it will be decided, if and when there will be another Full Metal Cruise.
"The gut feeling is good – we kept our promise to the guests: an unforgettable metal cruise combined with a relaxed atmosphere. And our crew got to know the metalheads as consistently nice and respectful guests." said Richard J. Vogel, CEO of TUI Cruises.
Holger Hübner, manager of ICS, added: "We are really happy that the concept of the Full Metal Cruise worked out so well. The atmosphere was great the whole time and the fans and artist were thrilled. It was an awesome metal party on open sea with characteristics of a festi-val. We will remember it for a long time."
Full Metal Cruise – numbers & facts
Die Reise
- 7 days, 4 harbors, 2.000 metal Fans, more than 120 artists on board
The technique
- 100 tons of extra equipment
- 40 kilometer of cable
- 50.000 watt sound system on the pool deck
- 170.000 watt total sound power
- 200.000 watt total light power
- 2 cranes for loading and unloading
Consumption (some examples)
- 32.000 liter of beer
- 1.100 liter of orange juice
- 5.300 liter of water
- 1.700 sausages
- 840 kilogram of french fries
- 740 kilogram of steak
- 28.000 eggs
All further info at: www.full-metal-cruise.com