First bands announced for Full Metal Cruise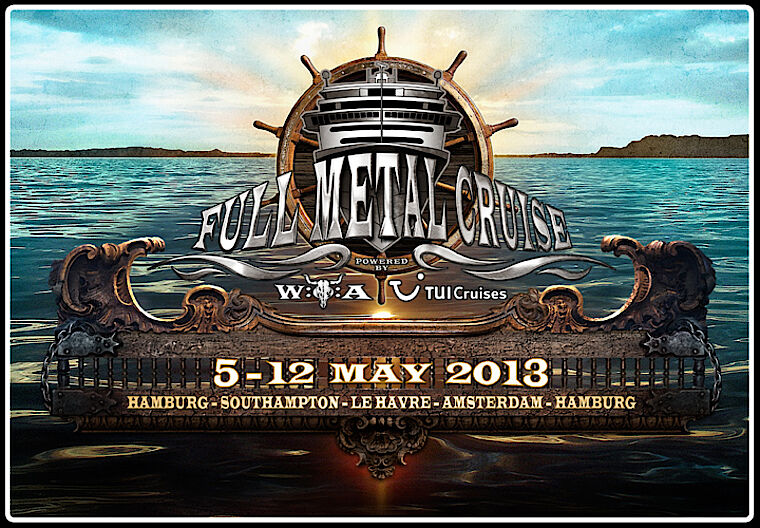 Ahoi, Metalheads!
Here are the first band announcements for the Full Metal Cruise:
One of the headliners will be In Extremo, chart-topping German medieval rockers and kick-ass live act. More headliners will be revealed soon.
Joining us on board will be greek melodic metallers Firewind with Ozzy guitarist Gus G., metal legends Gamma Ray, Punk'n'Roll heroes Betontod and, last but not least, Doro, undisputed queen of Metal.
Also on the bill: Mambo Kurt and German comedy shooting star Bembers. Showing their skills at workshops & clincs will be guitar god and Scorpions alumni Uli Jon Roth and drum legend Jörg Michael, formerly of Stratovarius.
Interest in the Full Metal Cruise is high, but there are some tickets left. So if you want to take part - hurry up!
Here is the official trailer (in german)
<script type="text/javascript" src="http://www.wackentube.com/js/embed.js.php?id=3458"></script><noscript><object type="application/x-shockwave-flash" data="http://www.wackentube.com/vimp.swf?playlistmode=media&amp;mediaid=3458&amp;webtv=false&amp;hosturl=http%3A%2F%2Fwww.wackentube.com%2Fflashcomm.php" id="flashcontent_5020cca197be7" classid="clsid:d27cdb6e-ae6d-11cf-96b8-444553540000" name="c6a80378-3eb2-47e7-8415-ba1f7cff037e" codebase="http://fpdownload.macromedia.com/pub/shockwave/cabs/flash/swflash.cab#version=9,0,0,0" width="480" height="360" align="middle"><param name="movie" value="http://www.wackentube.com/vimp.swf?playlistmode=media&amp;mediaid=3458&amp;webtv=false&amp;hosturl=http%3A%2F%2Fwww.wackentube.com%2Fflashcomm.php" /><param name="width" value="480" /><param name="height" value="360" /><param name="align" value="middle" /><param name="quality" value="high" /><param name="allowscriptaccess" value="always" /></object></noscript>
Join the Cruise, Metalheads!