First lottery in the year 2004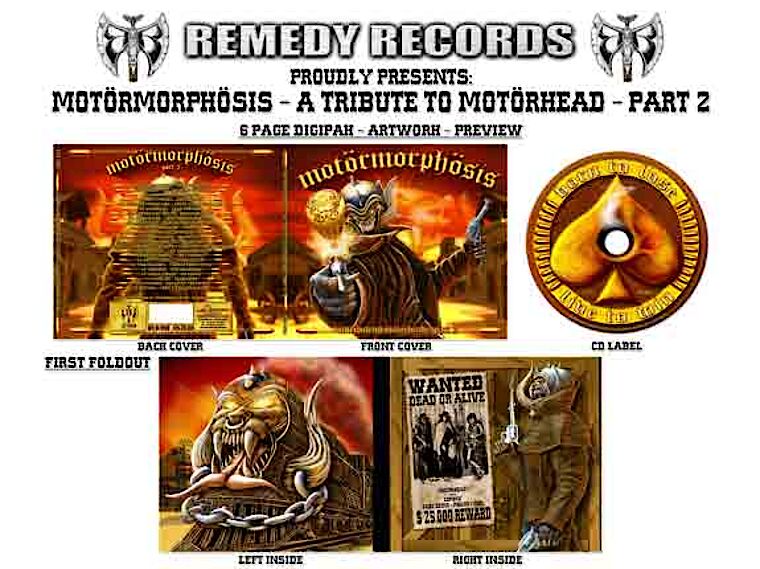 Dear Metalheads!
We´ll present you more lotteries in future. So you can win 10 limited Promo-CDs MOTÖRMORPHÖSIS Part 2 today.
The price:
The Motörmorphösis Promo-CD which runs 80 min. - a tribute to motörhead part 2 (Vö. 24.11.2003) including the following tracks:
- STORMWARRIOR ? BUILT FOR SPEED
- TORMENT ? NO VOICES IN THE SKY
- V8 WANKERS ? BOMBER
- HOLY MOSES ? THE HAMMER
- TWISTED TOWER DIRE ? SHOOT YOU IN THE BACK
- FYREDOGS ? LOVE FOR SALE
- GODDESS OF DESIRE ? DEATH OR GLORY
- KICKHUNTER ? LOVE ME LIKE A REPTILE
- BONEHOUSE ? DANCING ON YOUR GRAVE
- POWERGOD - LIAR
- MEGACE ? IRON FIST
- NIFELHEIM ? SACRIFICE
- GUN BARREL ? OUT OF THE SUN
- DEVIL`S DAY OFF ? THE CHASE IS BETTER THAN THE CATCH
- UPPERCUT ? SEX AND OUTRAGE
- LOST JOHNNY ? LOST JOHNNY
- HOLY MOSES ? I´M THE DOCTOR
- TRACEELORDS ? PLEASE DON´T TOUCH
- TORMENT ? ORGASMATRON
- NOISE FOREST ? NO CLASS
- EROSION ? CAPRICORN
- DIVISION ? TOO LATE TOO LATE
- PHILIAE - I DON`T BELIEVE A WORD
You have to answer this question:
How long should the Metal-Market with the stage be open on W:O:A 2004?
Answers:
a) 1 day
b) 2 days
c) 3 days
d) 4 days
We need your answers so play this lottery :)
Send your answer, your name and your address up to the 11th Jan 2004 to: lottery@wacken.com and perhaps you win one of the MOTÖRMORPHÖSIS Part 2 CDs!
The winners will presented on monday, 12.01.04!!
All players have the same chance to win. You have to give one of the answers to get the chance to win. You can only play by mail. If one sender write more than one mail he can´t win anymore!!!
Your
W:O:A Team