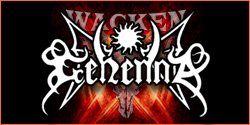 Gehenna lurks behind door no. 13!
Many fans can´t get enough of it: Norwegian death/black metal. Corpse paint, morbid melodies and hard sound – things you will get all from Gehenna. Our line-up update of today. Besides bands like Emperor or Darkthrone these guys are also known as co-founders of the genre.
More band info at Billing/Bands
And here are the x-mas winners from the 12th of december 2011:
Dominik S - Düsseldorf
Christoph S - Siegen
Andreas E - Westerstede
Lena K - Lengerich
Stefanos C - Athens (Greece)
All winners were already informed by mail!
Tomorrow we will announce the next band and xmas winners!