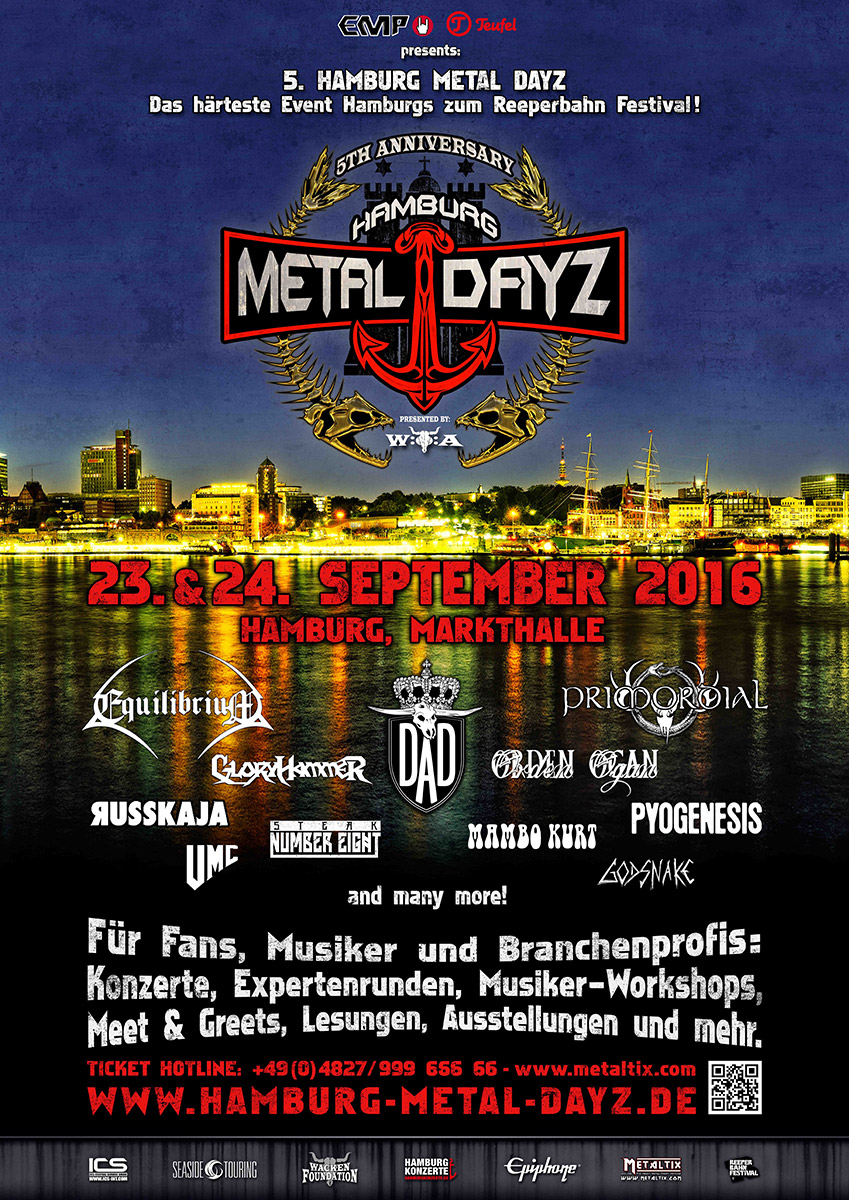 Hamburg Metal Dayz To Confirm More Bands
With the start of their presale, the fifth Hamburg Metal Dayz already announced some great bands. The likes of Primordial, Orden Ogan, D-A-D and more are now accompanied by the following acts: Russkaja are well-known for their knack to turn every show into a Russian party extravaganza. Another addition, Pyogenesis, celebrated a successful comeback in 2015 after a hiatus of over ten years, thanks to their widely acclaimed new record "A Century In The Curse Of Time" and a bunch of selected concerts.
While these two bands are already established artists, we are especially excited to present you with three newcomers in this announcement: Belgium's Steak Number Eight are considered among the most hopefuls of their homecountry's scene and are apt at utterly destroying the stages they're playing. While they rely on a heavy blend of doom, stoner and sludge elements for this, UMC (short for Ultimate Music Covers) have found another way to achieve just this: The two young musicians, who are taking symphonic metal by storm as members of Beyond The Black, turn pop songs into serious metal material, which is not only suitable for parties.
Last but not least, Godsnake bring some crunchy heavy rock to the table. The boys from Hamburg played the Metal Monday of May 2015 and aced it, which is why we want to introduce you to them on the Metal Dayz, too.
Below you can see the schedule for all bands confirmed so far.
Tickets for Hamburg Metal Dayz 2016 are available now from Metaltix.com! Make sure to snag an exclusive shirt for only 10 € in addition to your ticket!
Hamburg Metal Dayz 2016
Hamburg, Markthalle
23.09. with: Equilibrium, Primordial, Russkaja, UMC and many more!
24.09. with: D-A-D, Gloryhammer, Orden Ogan, Pyogenesis, Steak Number Eight, Godsnake and many more!