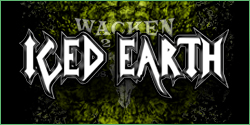 Iced Earth & Vreid behind door No. 21
Iced Earth
Jon Schaffer and his band will be back in Wacken! Founded 1984 in Tampa – Florida, this metal legend will show you why they class among the best live bands in their genre. In the beginning of 2011 they will release their new live DVD "Festivals of the Wicked". Don´t miss it!
Vreid
Norwegian black n roll brigade will march towards Wacken. This should put a smile on every black metal heads face!
Bandinfo:
And the winners of the 20th of december are:
Dominic B. - Schwerin
Florian A. - Leimersheim
Michael B. - Hollabrun (Austria)
Leena A. - Nastola (Finland)
Shane B. - Dublin (Ireland)
One extra AC/DC package goes to:
Fabio B. - Mülheim-Kärlich
All winners will also be informed per mail!
We wish all winners a lot of fun with their prizes and a good portion of luck during the remaining X-MAS lottery!