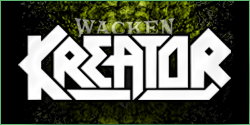 Kreator and As I Lay Dying behind door No. 24
Today is christmas eve and the last door in our x-mas calendar has opened. Behind it there are no one less than Kreator and As I Lay Dying!
Kreator
Germanies Thrash-Metal legends! Scarcly any other band had as much influence on the thrash metal scene in germany and in many other parts of the world. In 2011 they will return to show you once again why they are known as the spear head of thrash metal!
As I Lay Dying
Founded in San Diego, California this metal core band managed it to acquire a huge fan base within the last years! After they rocked Wacken in 2008 they will return to overcome that show in 2011!
And the winners of the 23rd of december are:
Carolin S. - Konz
Daniel L. - Greven
Dirk B. - Dalldorf
Volker L. - Dingen
Helena Z. - Rosbach
One extra AC/DC package goes to:
Marc H. - Morsum
All winners will also be informed per mail!
We wish all winners a lot of fun with their prizes and a good portion of luck during the remaining X-MAS lottery!