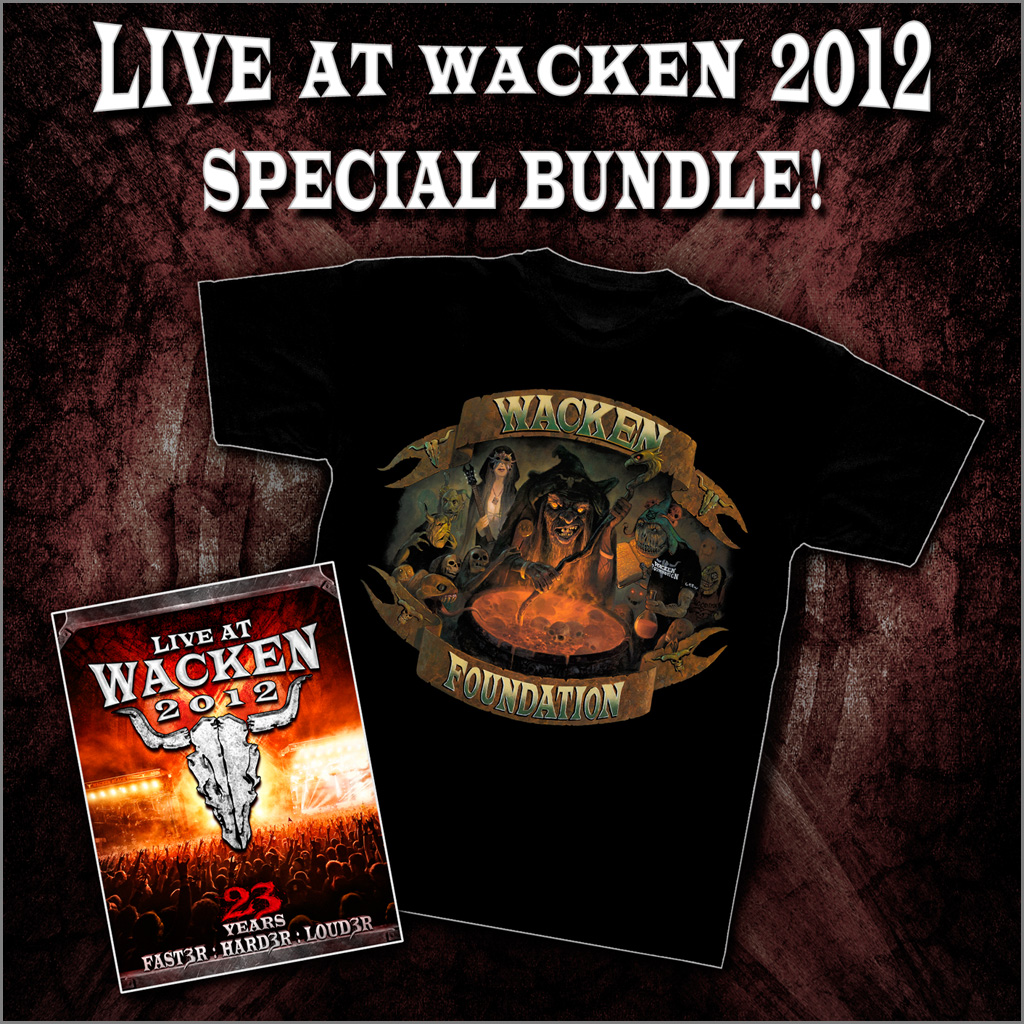 Live at Wacken 2012 - Triple DVD & Limited Wacken Foundation Shirt
The new "Live at Wacken 2012" triple DVD was pre-available for sale as limited bundle at this years Wacken Open Air. The limited triple DVD
also included a strictly limited t-shirt which will not be available anymore after this edition has been sold out.
The last copies of this limited editon can now be ordered at the shop of UDR Music
Info:
The Wacken Foundation presents an exclusive shirt whose proceeds are dedicated to the support of hard rock and heavy metal bands. By purchasing this shirt you don't get just a simple piece of clothing, but you make a clear statement: Yes, I listen to metal music and I support the scene.
We were able to engage a very special artist for the design, whose work is well-known to everyone: Paul Gregory. His cover art for Saxon and Uriah Heep gave a face to several milestones in the history of music. Thomas Jensen, co-founder of the Wacken Open Air and Paul Gregory, founder of the Bloodstock Open Air have known each other for over ten years and they have already worked together on several occasions. Since the work of the Wacken Foundation is very important to both festival organizers, the idea of this art project for charitable metalheads was quickly born.
The t-shirt was produced by Artworx as a strictly limited edition of 500 pieces for the Wacken Foundation at a special price. And now after the festival any remaining Foundation t-shirts will be be offered in a package along with the "Live at Wacken 2012 Triple DVD" for € 40.00 online at www.shop.udr-music.com. Also in advance of the official release date, the triple DVD "LIVE AT WACKEN 2012" will be available exclusively in the UDR shop for 25,00 €.
<iframe width="640" height="360" src="http://www.youtube.com/embed/CwLoEbTBQLg?feature=player_detailpage" frameborder="0" allowfullscreen></iframe>
The limited bundle can be ordered here: shop.udr-music.com