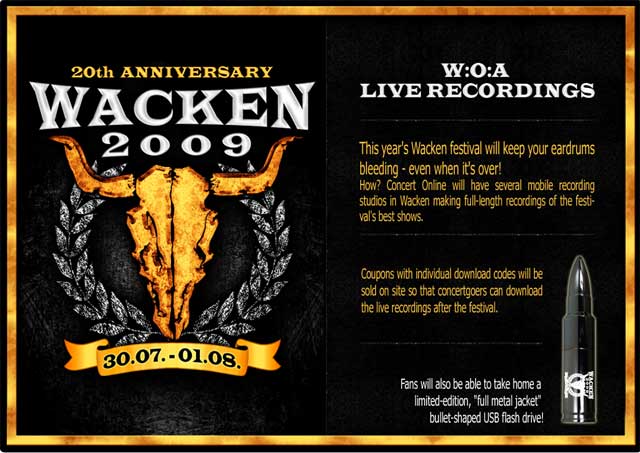 LIVEDOWNLOADS + WACKEN MP3 STICK
Dear Metalheads,
Two big news for you: For the first time we can present you special live-recordings of selected band-performances with a complete professional editing, only available in MP3 size!
To get on of those MP3 shows you have to buy a downloadcard during the festival. With the code on the downloadcard you are able to download the performance of your choice at a later date.
The other big news is that you can buy a very special MP3 stick with a bullit-design exclusively at the W:O:A (Black or Gold).
Wacken-founder Holger Hübner: "Offering fans the opportunity to take home a live recording of their favorite band immediately after the show is just fantastic. We are very pleased to be able to give Wacken concertgoers the chance this year to take home the Festival Stick, which I think is a very innovative product. This is also a logical extension of the range of monetization opportunities and fan services we offer all heavy-metal fans, such as the festival DVD and CD, webcams, online live streaming, Wacken Radio and an IPTV channel on Rockalarm.com."
The downloadcard will be available for 12.50 €, the stick for 10 € and the bundle for 20 €!
Your
W:O:A Team