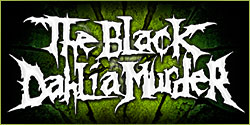 Melodic Death Metal and Stoner behind door number 5
Today we have two more names for the upcoming Wacken Open Air for you. One plays Melodic Death Metal while the other band is from the Stoner genre.
The Black Dahlia Murder
For the third time, The Black Dahlia Murder is going to visit our festival. The Melo-Death band has released seven Albums so far and there is no sign of of fatigue visible so far.
More about The Black Dahlia Murder
Red Fang
In 2012 they gave us a great stoner performance already and now they return for the second show: Red Fang. Since the last gig, they have released some new material and we're looking forward to hear the new stuff at our festival.
And here are the x-mas winners from the 4th of december 2015:
Paul J - Herford
Martin B - Eisenach
Juan Miguel L - Merida (Spain)
Morgan C - Paris (France)
Ruben M - Madrid (Spain)
All winners will be informed by mail!
Tomorrow we will announce the next band and xmas winners!