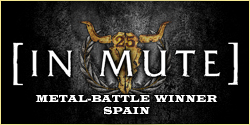 Metal Battle 2014: Here are the winners!
The winners of the 10th international Metal Battle finals are determined! This year, the five bests bands will be honored with cash prizes (sponsored by the Wacken Foundation) and material prizes.
The first place goes to [In Mute] from Spain! The managed it to thrill both the jury and the audience and their "Scandinavian" metal led them to the victory!
Place two goes Dirty Shirt from Rumania, the third place to Huldre from Danmark. Evocation from China made it to the fourth place and Convivum from Sweden got the fifth.
We congratulate all participants to their epic performances!