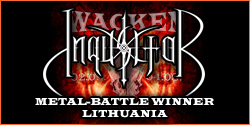 Metal-Battle Winner Lithuania - Inquisitor
Today we are happy to announce the next finalist from this years edition of Metal-Battle. The band comes from Lithuania and is called Inquisitor. The band won the national finals at Lithuania and will rock the stage at Wacken with it´s mixture of progressive and black metal
Here is a video live record of Inquisitor made during the Metal-Battle finals:
<iframe width="350" height="213" src="http://www.youtube.com/embed/m3nOgSc7aoM" frameborder="0" allowfullscreen></iframe>
Congratulations to Inquisitor and thanks to all the participating metalheads at the Lithuanian finals which made this into a very memorable battle for all !!
See you at Wacken, rain or shine !!!'
Further finalists will follow soon!
More info under: Billing/Bands
All further news about Metal-Battle Lithuania can be found under:
www.metal-battle.com/countries/lithuania/