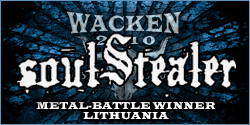 Metal Battle Winners from Lithuania are certain
The winners of this year's Metal Battle Lithuania are certain now: SOUL STEALER.
Founded in 2003, they had a few successes already.
In 2005 they came second place in a Lithuanian competition called "Brodv?jus Star 2005" and in 2006 they came third place at "EuroRock 2006" which meant they were invited to play at a Polish festival.
In 2008, the band released their self-titled debut album and the ones who watched the Eurovision Song Contest 2008 attentively should know these guys: they represented Lithuania.
Be sure not to make a mistake watching these guys rocking on stage!
More at Billing Bands