Important
This article is VERY old (older than 2 years)!
Rock In Concert-Open Air-Days – in Lichtenfels / Weismain 2011, amongst other with Motörhead and Alice Cooper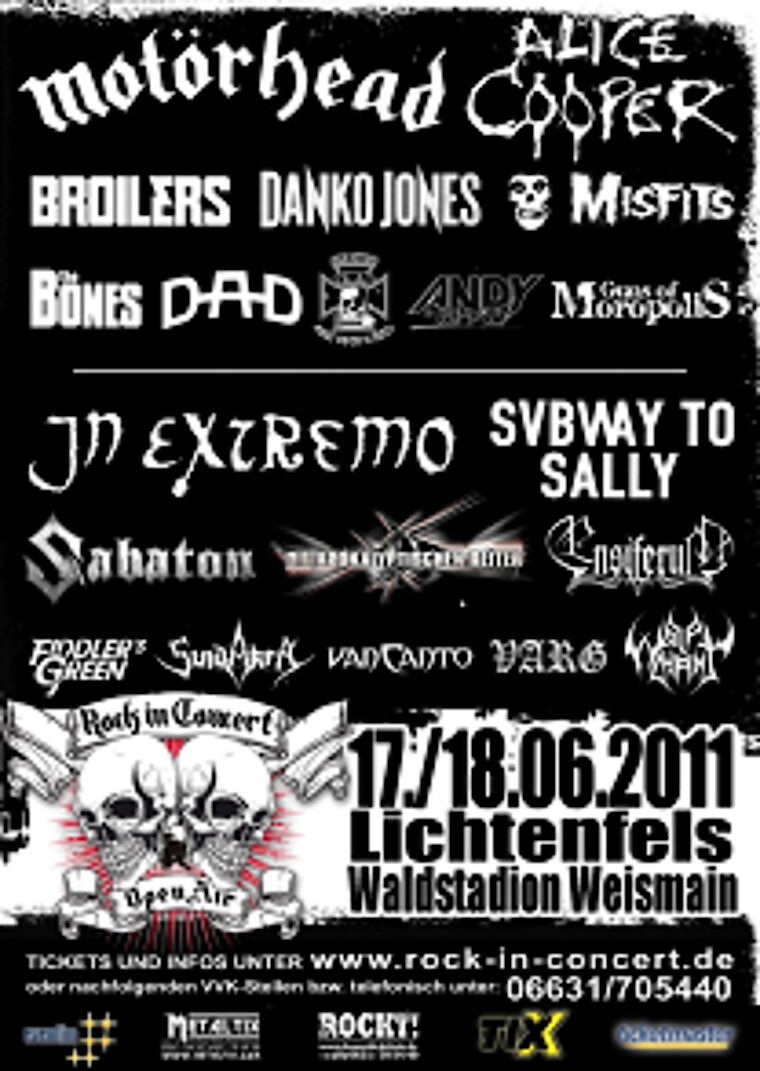 With Motörhead and Alice Cooper Rock In Concert presents two of the most legendary bands in metal music business.
Since 1977 the British Rock Band Motörhead published more than 20 albums and released their latest opus "The Wörld Is Yours" in 2010.
In Lichtenfels Motörhead will give an exclusive two-hour open air show which is at the same time the only show the band will give in the South of Germany in 2011.
But Alice Cooper will rock the Waldstadion with his Theater of Death as well.
This show is more than normative stage performance and a Must Seen for every metal fan.
Friday night also on stage are Danko Jones, Misfits, D-A-D and The Bones.
Headliner on Saturday will be the German Folk Metal Band In Extremo whose latest album is on chart position one.
Subway To Sally will perform as co-headliner.
Besides them Rock In Concert – Open Air – Days have much going for with a top-class billing.
Some of the bands you´ll see on stage on Saturday are:
Sabaton, die Apokalyptischen Reiter, Ensiferum, Fiddlers Green, Suidakra.
One of the greatest Rock Days in 2011!!
Save your tickets now for Rock In Concert in Lichtenfels/ Weismain in June 2011!
For tickets have a look at:
More info about Rock In Concert :