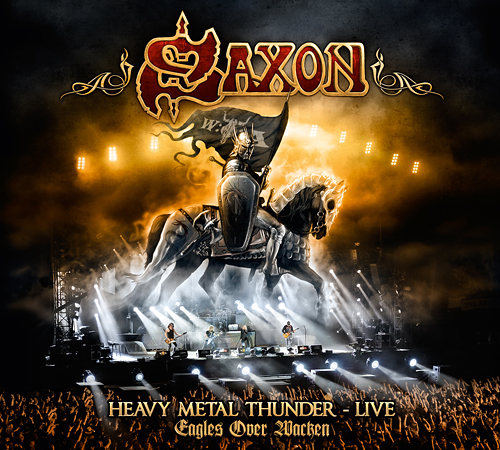 Saxon – Eagles Over Wacken
SOME THINGS just go together…heavy metal and thunder…denim and leather …Saxon and Wacken.
They've been old friends for many years now, their harmony collecting an army of thousands upon thousands who view Saxon live as a pilgrimage to the heart of metal music. And when that pilgrimage takes you, repeatedly, to the largest heavy metal festival in the world, Wacken Open Air in Germany, the results will always be electric.
"When we fi rst played Wacken, it was a small festival with a small stage in a small fi eld, driven by nothing more than raw enthusiasm, which appealed very much to us!" says Biff Byford, Saxon's
venerable frontman, "it started as fans putting on a festival for fans, and now it's fair to say that it is to Heavy Metal what the Donington Festival used to be. That was the iconic heavy metal festival of
the '80s, and Wacken is the iconic heavy metal festival of 'now'."
Now you can feel that electricity for yourselves thanks to Saxon - Heavy Metal Thunder - Live - Eagles Over Wacken the no-fat-no-bullshit-100%-pure CD/DVD featuring DVD highlights from Saxon's Wacken shows in 2004, 2007 and 2009 comprising THIRTY songs, plus a live CD from Glasgow in 2011. Each set captures the Barnsley-bred British heavy metal legends delivering classic after classic, from "Denim & Leather" to "Metalhead" to "Heavy Metal Thunder" to "Princess Of The Night" to "Crusader" in front of 75,000+ loyal, ravenous fans, who have come to expect (and receive) the levels of performance Saxon have been delivering for 32 years.
"And when the eagle comes down at Wacken, when it opens up over the audience, it is always an electric moment for those there," says Biff emphatically of the famous Saxon eagle, a ton or so of
steel and lights, rescued from a storage space in the British home counties where it had lain dormant gathering rust. In many ways, the eagle's rebirth and Wacken's ascent are partners
on the journey, as it was Wacken's organizers who offered to restore the mighty metal bird so as it could become a live centerpiece of both Wacken and Saxon's history.
And when it comes to heavy metal, Saxon's history is, indeed, rich. Rightly seen as one of the premier vanguards of Heavy Metal alongside the likes of Iron Maiden, Saxon were a major influence behind platinum-coated stars such as Metallica and Megadeth. Formed as Son of A Bitch in 1976 (and becoming Saxon in 1978) they enjoyed tremendous commercial success
in the UK during the '80s, with 8 UK top 40 albums, and have sold over 13 millions albums worldwide, while albums such as Wheels Of Steel, Strong Arm Of The Law, Denim & Leather and The Power & The Glory have become legendary staples of any self-respecting metal fan's collection.
But it has always arguably been on stage where Saxon have excelled the most. There's no hiding once you hit the boards, and whether playing to 20000 people in Buenos Aires or 2000 people in Bolton, Byford, Carter, Glockler, Quinn and Scarratt source the same high-voltage energy reserves and deliver the same high-octane, blood and sweat-soaked show that makes
Saxon a perennial touring favorite.
"We've consistently tried to write, and perform songs which both us and our audience enjoy," says Biff, "and we've worked very hard to maintain that link with our audience, because if you don't have that connection it can be very dangerous. We need them, and we need to be ready to deliver for them at every show, that's the challenge and it's one we gratefully accept and enjoy. If the audience are
prepared to get crazy, then it's always going to be a strong show, and Wacken always delivers us a fantastic connection. You cannot fake that electricity, everyone wants that 'charged' atmosphere and
it is absolutely priceless…"
If you've never had the chance to experience Saxon, start here and start now! If you've had the chance and yearned to capture the energy, the moment and the memory of it all, then put your hands together for Saxon "Heavy Metal Thunder - Live - Eagles Over Wacken" and be grateful to know that despite everything going on in our increasingly confused world, your escapist musical prayers have been answered.
"Heavy Metal Thunder - Live - Eagles Over Wacken" is available in a variety of formats, including the 'Golden Ticket' D2C/Direct To Consumer Box.
Strictly limited, this exclusive package contains the "Best Of Wacken" DVD, plus the full and complete Saxon W:O:A performances from 2004/2007/2009 each on a separate DVD, plus a Saxon flag.
The real surprise is that 10 'Golden Tickets' are randomly included in the box sets, which will allow the lucky winners to visit any Saxon concert in any city around the world (excluding festival appearances).
'Silver Tickets' giving access to special online content are for the remaining boxes so there are no losers - only winners.
Release Dates:
EUROPA: 20. April 2012
UK: 23. April 2012
USA: 22. Mai 2012
TOUR DATES 2012
22.04.2012 BR SÃO LUÍS - Metal Open Air
28.04.2012 DE DORTMUND - Rock in den Ruinen
23.05.2012 BE ANTWERP - Lotto Arena *
24.05.2012 NL KERKRADE - Arena *
26.05.2012 UK HAMMERSMITH - Apollo *
30.07.2012 NL STEENWIJKERWOLD - Dicky Woodstock Festival
02.08.2012 DE WACKEN - Wacken Open Air
03.08.2012 DE GEISELWIND - Bike & Music Weekend
* Show mit JUDAS PRIEST
More under:
www.youtube.com/user/PlanetSaxon
www.last.fm/music/Saxon?setlang=en