Important
This article is VERY old (older than 2 years)!
Slam Poetry, Witch Hunts and much more -The Framework programme of Hamburg Metal Dayz 2017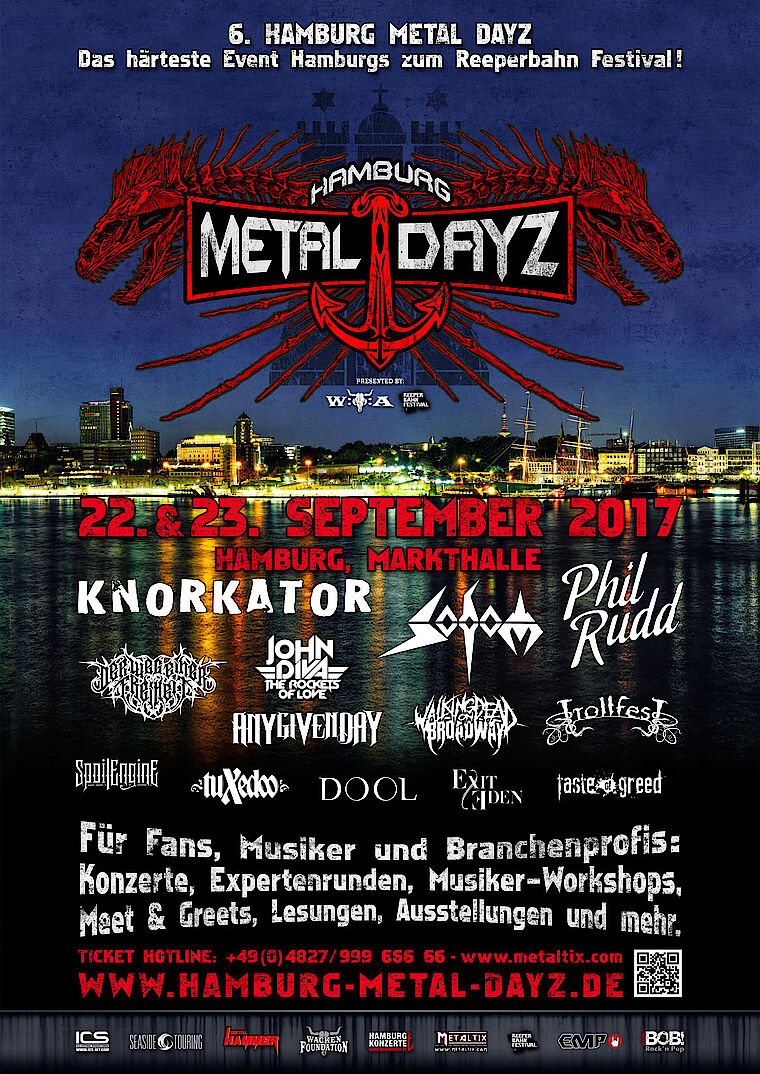 With the addition of Walking Dead On Broadway and Exit Eden, the musical line-up for Hamburg Metal Dayz 2017 is complete - now it is time for the first readings, workshops and panels! These are:
Friday, September 22
Hannes Finkbeiner reads from "Jogginghosen-Henry", the first metal festival novel with masses of beer, kapow and heart (German only)
Author, journalist and hotel critic Hannes Finkbeiner found the inspiration for "Jogginghosen-Henry", the protagonist of his novel of the same name, at Wacken Open Air 2012. What came out of it is a story about love, death and metal which the author will introduce at Hamburg Metal Dayz. More information: Homepage, Facebook
Beercrate Session with Tom Angerlripper
He is one of the most important persons of Germany's metal scene: Tom Angelripper and his band Sodom did not only establish thrash metal made in the Ruhr are as an international quality label, but also inspired countless bands that followed. In his Beercrate Session you have the possibility to meet him in a relaxed setting.
Saturday, September 23
Fans ask the promoters of Wacken Open Air
This one's a classic at Hamburg Metal Dayz: Holger Hübner, Thomas Jensen and the fans discuss the past and upcoming editions of W:O:A as well as upcoming trends. And who knows, maybe there'll be anecdotes from the backstage of the biggest metal festival.
Shoutcoach Thomas Fischer
What would metal be without all the singers whose growls, screams and shouts are so important for all the songs we love so much? Of course this way of singing is way harder than it might seem and can even cause severe damages. Thomas Fischer will give you tipps on how to avoid this. More information: Facebook
"Teufelswerk und Hexenjagd" - lecture by Lydia Benecke (German only)
The gothic scene is often associated with crimes committed because of alleged satanic motives. Criminal psychologist Lydia Benecke is looking for the reasons of these accusations and finds them in the fact that once again complex issues are simplified too far - you could say: Witch hunts still exist! More information: Homepage
Metal Slam Poetry by Marock Bierlej (German only)
What happens when metalheads start writing slam poetry? Things get funny, loud, honest and a little bit macabre! Marock Bierlej's poetry is all these things and much more - look forward to a session as wild and intensive as a great concert with the defined goal of metalifying you book club. More information: Homepage, Facebook
More parts of the framework programme will be announced soon, in the meantime tickets are of course available from Metaltix!
Hamburg Metal Dayz 2017
with: Sodom, Knorkator, Phil Rudd, Trollfest, Der Weg Einer Freiheit and many more!
22. - 23.09. Hamburg, Markthalle