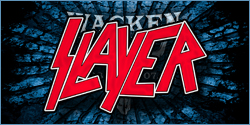 SLAYER. Yes, SLAYER. In Wacken. 2010. Any questions?
There are no compromises in the world of Slayer. Slayer are Slayer and they stay Slayer. But there is high class Thrash. Which is exactly why those Californians are considered grand masters of the genre, and quite rightfully so.
Next summer, Slayer will be playing Wacken for the second time. And that's where they belong. Thrash!
More info at the Billing/Bands section on the W:O:A page.