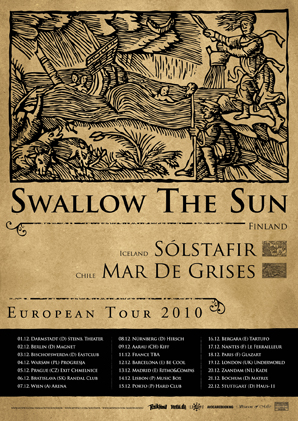 Sólstafir – European Tour with Swallow the Sun & Mar de Grises in December
The Metal Band Sólstafir from Iceland will tour in December this year as support for "Swallow the Sun" in Europe.
Their album "Köld" which was released in 2009 is described by Aðalbjörn Tryggvason as a natural high!
The band will also be supported by Mar De Grises (Chile), which announced their new album "Streams Inwards" on August 30th. So be ready for a impressive tour!
Tourdates:
01.12.2010 GER Darmstadt Steinbruch Theater
02.12.2010 GER Berlin Magnet
03.12.2010 GER Bischofswerda Eastclub
04.12.2010 POL Warsaw Progresja
05.12.2010 CZ Prague Exit Chmelnice
06.12.2010 SLO Bratislava Randal Club
07.12.2010 AUT Wien Arena
08.12.2010 GER Nürnberg Hirsch
09.12.2010 SWI Aarau Kiff
10.12.2010 Day Off
11.12.2010 F TBA TBA
12.12.2010 ESP Barcelona Be Cool
13.12.2010 ESP Madrid Ritmo & Compas
14.12.2010 PT Lisbon Music Box
15.12.2010 PT Porto Hard Club
16.12.2010 ESP Bergara Tartufo
17.12.2010 F Nantes Le Ferrailleur
18.12.2010 F Paris Glazart
19.12.2010 UK London Underworld
20.12.2010 NL Zaandam Kade
21.12.2010 GER Bochum Matrix
22.12.2010 GER Stuttgart Haus-11
Tickets for german dates can be ordered at www.metalix.com
More Info: