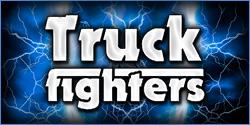 Stoner and Dark Rock behind door 16
Today we present you two up and coming names from the genres of stoner rock and dark rock. And we also raffled new winners of course!
Truckfighters
After we already gave you some heavy tunes, it is time for something smoother. Truckfighters are famous for their stoner rock combined with some Doom-Metal. This mixture got them to enter the German music charts and to do several tours through the USA. We are excited to welcome them at the Wacken Open Air 2015!
Stoneman
Imported from our Swiss neighbors we like to welcome the Dark Rock newcomers of Stoneman. and With their catchy tunes and their fourth studio album Goldmarie, the four guys qualified for their first W:O:A slot. We look forward to seeing them live in Wacken!
And here are the x-mas winners from the 15th of december 2014:
Michael D - Hamburg
Klaus B - Neu wulmstorf
Paula P - Sao Paulo (Brazil)
Alexandre G - Amiens (France)
Quincy V - Hattemerbroek (Netherlands)
All winners were already informed by mail!
Tomorrow we will announce the next band and xmas winners!
If you have not participated yet than take your chance now and visit www.metaltix.com. More bands and amazing prizes are waiting behind every door!