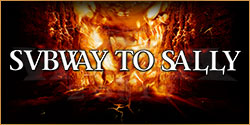 The bands behind the 9th door
Another day with three names for W:O:A 2017. And next to some old friends, we can also announce another premier!
Always a guarantor for a great show! Subway to Sally rocked the W:O:A 10 times so far, because of their incredible power and joy on stage. They know exactly how to unite a crowd for their big choruses and their albums always have a very highq quality.
The legendary Progressive Metal band Psychotic Waltz is active again and in top form! The band was founded in the eighties and was very popular back in the days. After some strokes of fate and discrepancies, the band split up in 1997. But now they are back and they are going to conquer Wacken for the very first time!
German rock with a firm stance - the band Kärbholz is combining Rock, Punk and Indie to their very own style. They are a relentless band, if they don't play concerts, they are probably busy writing new music. Check out their new album "Überdosis Leben", it will the stores in January 2017!
And here are the x-mas winners from the 8th of December 2016:
Kay K – Naumburg (GER)
Melanie P – Georgsmarienhütte (GER)
Jan W - Böhl iggelheim (GER)
Mandy S – Geithain (GER)
Rafael C - Jaen (ESP)
All winners will be informed by mail!
Tomorrow we will announce the next bands and xmas winners!