Important
This article is VERY old (older than 2 years)!
The Scorpions farewell tour – Doro celebrates her colleagues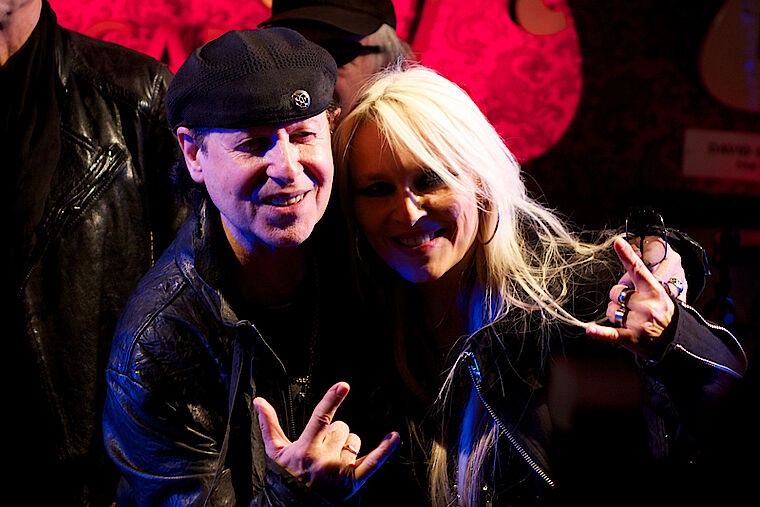 On Saturday the 14th of November 2010 the Scorpions gave their last show in Rheinland. Their fans acclaimed their idols at the sold out LANXESS Arena.
With them – Doro Pesch had shared in this event!
On the after show party at Hard Rock Café the scorpions were awarded for their lifework.
Doro gave the laudation for her long-time friends.
Doro to the Scorpions: "I´d grown up with you music – you inspired me! You were and always will be the measure for all things.
Even bands like Bon Jovi or Metallica had geared to your music – me as German musician as well"!
In a statement Rudolf Schenker explained: After 40 years of band history – this is our farewell tour. But today we won´t cry the teardrop of tomorrow. We want enjoy every single day"!
Together with their family and near friends they´d partied until the daybreak!
Everyone who wants to see Doro live, has the opportunity at her upcoming Wintertour 2010 on the following Dates:
WINTERTOUR 2010
13.12.2010 SWI Winterthur Eishalle Deutweg
15.12.2010 GER Bremen Aladin
16.12.2010 GER Kiel Max
18.12.2010 GER Limburg Stadthalle
19.12.2010 GER Ludwigsburg Rockfabrik
21.12.2010 GER Augsburg Spectrum
22.12.2010 LUX Esch / Alzette Rockhal
23.12.2010 SWI Pratteln Z7
26.12.2010 GER Nürnberg Hirsch
27.12.2010 GER Gießen Hessenhalle
29.12.2010 GER Crailsheim Sporthalle
30.12.2010 GER Burglengenfeld VAZ
Tickets atwww.metaltix.com