The second Advent unleashes 10 more bands for W:O:A 2023!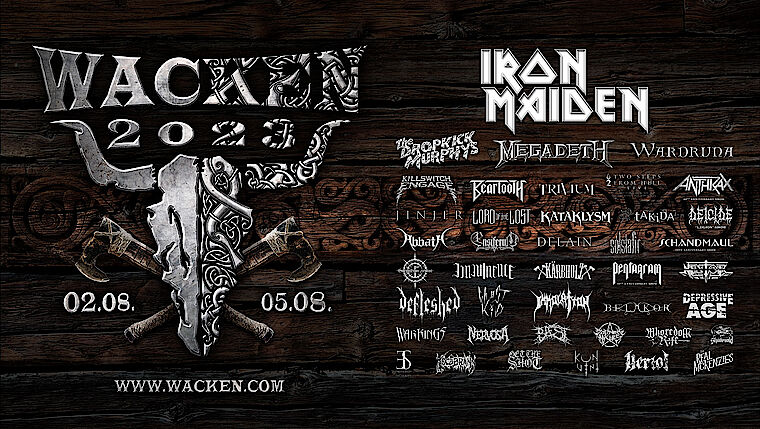 You patiently waited over a month for our next band announcement, and you shall not be disappointed! We give you 1/4 th of the "Big Four", more Vikings and legends to match the theme and much MORE!
Anthrax - 40th Anniversary Show!
They are part of The Big Four and they got the most iconic beard in the scene on guitar – New York Thrash legends Anthrax need no further introduction. That little thing called Covid ruined their 40th birthday party celebrations all over the globe so we are even more happy to be cheering with them for their 42nd. If you ain't getting "caught in a mosh" here, then we don't know what to tell you!
Killswitch Engage
Everybody loves a comeback story! Killswitch Engage, probably one of the biggest Metalcore bands on the globe did not let a change in lead vocals stop them - quite the opposite. When the band saw Howard Jones in 2012 leave due to personal reasons, they welcomed back founding member Jesse Roach. Lucky Wacken Fans: you all get to experience the band after a fantastic show 2008 with Jones now with Roach! Who is your favourite KsE Frontman?
Employed to Serve
Wild, young, eager, brutal are some of the adjectives that come to mind when you experience Employed To Serve for the first time. We are not sure who they are "serving" but their harsh grinding vocals and riffs are very much to our liking. And apparently also metal gods Gojira share this opinion, as Employed To Serve is an often invited guest on their tours.
Be'Lakor
The name Be'Lakor is not only that of a demon from the Warhammer universe, but also a melodic death metal band from Melbourne, Australia, which has been a hot insider tip for years. The band has released 5 albums since their founding in 2004. The latest album Coherence has seen the light of day in 2021 and next year the Australians will play at W:O:A for the first time!
Kärbholz
There was a time when the little town Ruppichteroth was a quiet, romantic location that invites you to go hike the German Eifel. That must have been before Kärbholz were born, because we can only guess that them practicing their "In-Your-Face" Rock'n'Roll must have woken up the last sleepy soul in a mile radius. 20 years down the road and with some chartbreaking records under their belt, it is even harder to sleep on them. Three times is a charm, let's welcome them back accordingly!
Schandmaul - 25th Anniversary Show!
Germany is the undisputed champion of medieval rock - why? We just like to be reminded of times where beer was drunken out of horns, and it was socially accepted to not bathe for 1 week. Or maybe it is because we have fantastic exemplums like Schandmaul, who for 25 years bring folky joy into the world. What could be a better place for the anniversary show then the Wacken stage?
Skalmöld
If you are waiting impatiently for more Vikings to enter our stages: here, you go! Straight from Viking country these musicians with sounding names like Ragnarsson and Sigurðsson gathered under the black flag of the ship that is called Skalmöd. In 2023 they are sailing again to Wacken to tell us old Islandic tales from brave warriors, terrifying beasts and old legends.
Real McKenzies
Professional Scotsman and Kiltwearer Paul McKenzie almost needs no introduction. For 30 years and counting him and his ferocious bunch are taking their Celtic Punk all over the globe. One might even argue that it was the Real McKenzies who invented it. Guess that will be something to discuss over a Guiness backstage with the Dropkick Murphys.
Heriot
Many people already see Heriot as the new revelation in Metalcore. And there may be some truth about that, as Heriot are widening the horizons of the genre. Where the guitars and drums are raining nails upon the listener, it is the spheric voice of Debbie Gough that catches them and wraps them in silver linen. It will be amazing to see what this young band can do on stage.
Warkings
What happens when you put four warkings together on one stage? A. They burn each other to ashes B. We will all go to Valhalla C. They form a band and become a most spectacular Powermetal concert experience. Answer is C. and the aptly named band Warkings will be bringing their godly but unholy shenanigans back on our stage 2023. Powered (sic) by their latest album Morgana we surely hope they are magically support again by our favourite voice-witch Morgana Le Faye!
That's not all! Today at the X-Mas Calendar there is also another amazing prize! Today you have the chance to win a Epiphione W:O:A Guitar, which was signed at one of the past W:O:A's by Ensiferum and Soilwork! In Addition you can also win another Wacken-Annual-Lot from the Deutschen Fernsehlotterie!
CLICK HERE TH GET TO THE CALENDAR!
We also want to declare the winners from December 1st to 3rd, 2022:
December 1st: Dennis S. from Wurster Nordseeküste, Erik W. from Hamburg, Anne H. from Wülfrath
December 2nd: Jens S. from Hannover, Gaby G. from Hamburg, Helmut F. from Forbach, Elias H. from Madrid (Spain), Adam J. aus Carvina (Czech Republic)
December 3rd: Björn G. from Hagenow

We wish all winners a lot of fun with their prizes!
yours
W:O:A team