"The Wackinger" are comming! Great medieval spectacle in Wacken!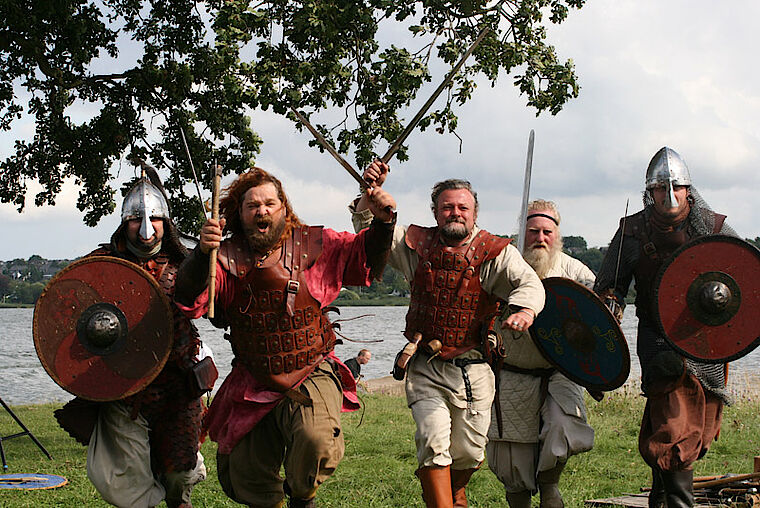 Having gained the extremely positive resonance concerning the middle ages-market in 2008, we'll top it in 2009:
A huge elaborated medieval spectacle is going to be presented in relation with the 20th anniversary of W:O:A, offering a vikings' village, knights' army-camp, highlandgames and role-games!
First time in history of W:O:A accoding to its 20th jubily the medieval sensation "THE WACKINGER" will take place, where mopre than 240 akitve members will build a viking's village and a big role-players' and knight-army's camp.
An extra fenced-off 2ha-area shall rouse the association to fixed army-camp. It is provided by the heads of WacKen Open Air.
The programme offers different daily highlights to the fans of the medieval scene, from vikings' and knights' fights, staged role-player-battles, weapon shows, jugglery and music. Additionally there will be daily activities for Wacken-fans to take part in, from "Bruchenball"-cup (the precursor of Soccer and Rugby) to classical schottisch highlandgames.
Also we offer a long medieval traders' mile and a contemporary catering supply.
Taking part in "The Wackinger" will not cause extra pay
to Wacken-fans. This sensational medieval spectacle is unique in its dimension and programme on a Metal-festival, in the world.
Heya!!! All the active, hosts and organizers wish you visitors of "The Wackinger" a great time!
More detailed information to each offered event will follow currently!
Your
Wackinger & W:O:A Team
P.S.
Until the viking-gaggle invades the city Schleswig during one of the biggest vikinger-event in Europe – on vikings' days – W:O:A will have the advance party! Get detailed information on: