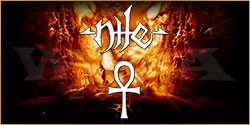 Three kinds of styles behind door 8
Behind door 8 at xmas.wacken.com, there aren't only nice prizes for our big raffle, but also three new names for the festival!
Finally back in Wacken! The Technical Death Metal band Nile has played W:O:A only once in 2003 and now they will return. The crew from the United States works up both the Egyptian mythology and the works of Lovecraft in their songs. No bad choice, both topics are fitting perfectly to the morbid sounds of Death Metal!
Guitar legend Uli Jon Roth returns too! The master and his sky-guitar have recently revisited his time with the legendary Scorpions and we are curious to see what the will perform during Wacken Open Air.
The iconic Thrashers from Hamburg are back! The band's history started in 1991 and the band gathered both great reviews and fans in great quantity. But after a few years, the band separated. Back in 2014, they started again and now they head for Wacken!
And here are the x-mas winners from the 7th of December 2016:
Ines W - Meckenheim (GER)
Melanie K - Bensheim (GER)
Marc S - Erlensee (GER)
Angelika S - Saarbrücken (GER)
Andrew P - Escondido (USA)
All winners will be informed by mail!
Tomorrow we will announce the next bands and xmas winners!