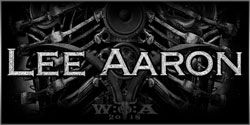 Three new names behind door 20!
Another day, another band announcement: Again we can announce three new names for W:O:A 2018!
American Queen of Heavy Metal, Lee Aaron, is going to join Wacken for the very first time! The Canadian was particularly active in the 80s and 90s. In this time, the singer had several albums in the charts world-wide. Nowadays she isn't as active as back in the days, but she continues to produce good albums and still delivers hot shows!
Finnish dark rocker Grave Pleasures (former Beastmilk) are coming to Wacken too! The band rearranged itself between the 1st and 2nd album and changed the name as well. The unusual combination of retro elements, catchiness and fresh ideas had remained and the latest outputs have been at least as good as the first one.
The progressive Doom Metal act Dool from the Netherlands ist ready for its Wacken debut too. The band was found in 2015 and has already created some attention within the scene. Already the first album got a high position in the German album charts and they toured successful with acts like Me and That Man.
And here are the x-mas winners from the 19th of december 2017:
Christoph B - Hannover
Kristian B – Skien (Norway)
Pascal N - Berlin
Katharina E - Oldenburg
Anni O - Kajaani (Finland)
All winners will beinformed by email!
Tomorrow we will announce the next bands and xmas winners!