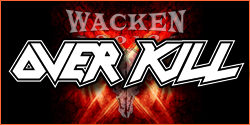 Triple Pack on Friday - OverKill, Chthonic & Dead by April
Just in time for the weekend we have three new band confirmations for you. Especially friends of extreme metal will enjoy them!
OVERKILL - The guys from Overkill are true Wacken veterans. Already five times they played on our stages. By now they released fifteen albums and another one will be released in the beginning of 2012.
More under Billing/Bands
CHTHONIC - Taiwanese Black-Metal band Chthonic will come to W:O:A for the second time. With their music they present the history and culture of Taiwan. Metal don't has to come from the west, with eastern instruments Chthonic are playing their own version of metal – a mix of Black and Folklore. And they bring their current album Takasago Army.
More under Billing/Bands
DEAD BY APRIL - Also at 23.Wacken Open Air - Dead by April from Sweden. They already released two albums packed with Hardcore-Metal. The song "Losing you" reached No.1 at the Swedish charts and Dead By April received the Swedish Metal Award as well as the Bandit Rock Award as Best Newcomer of the year.
They guys already look forward to their gig at the Wacken Open Air: "We've been dreaming of playing Wacken since we started our careers in other bands. Now it's finally happening; we're gonna tear Wacken a new one! We can't wait!"
More info under Billing/Bands