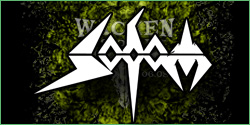 two bands behind the 8th window – Sodom and Stier
Sodom – is one of the most influential thrash metal bands past years.
They are known for their aggressive and fast music stile.
Lately the band announced that drummer Bobby Schottkowski will leave the band.
Nevertheless Sodom will play announced shows and the tour in spring 2011.
Then they´ll present you their new album "In War And Pieces" which was released in Autumn this year.
You´ll see them at the Wacken Open Air Festival 2011!!
There Sodom comes up with a batch of thrash metal for the hardest fans worldwide.
Stier - The band was named after its singer H. Martin Stier.
With a hard rock sound and brash lyrics the band lives up to its name.
Their latest album "Reden" was released in October 2010.
You´ll see Stier live at the Wacken Open Air Festival 2011!
Band Infos
And here are the winners of the 7th december:
Daniel S. - Dingden
Anna-Lena I. - Itzehoe
Andreas B. - Berlin
Dominik S. - Kirchlengern
Torsten S. - Gehrden
One extra AC/DC Package goes to:
Sara S. - Roma (Italy)
All winners will also be informed per mail!
We wish all winners a lot of fun with their prizes and a good portion of luck during the remaining X-MAS lottery!