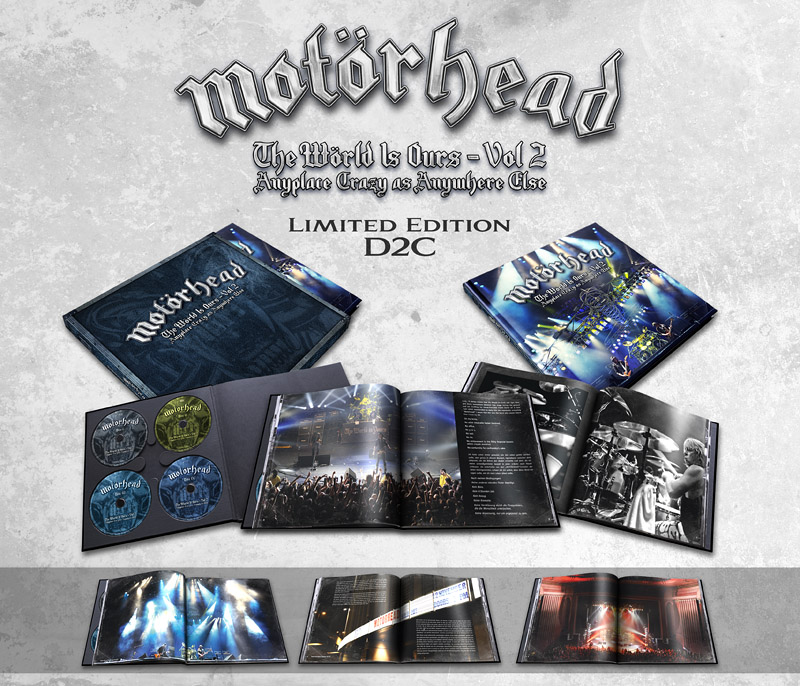 UDR MUSIC raffles 5 limited Motörhead D2C Packages!
Motörhead´s second "The Wörld is Ours" masterstroke output is available since a few weeks now.
Due to the release of the new live DVD "THE WÖRLD IS OURS - VOL 2 Anyplace Crazy As Anywhere Else" UDR Music raffles 5 limited D2C Packages.
What do you have to do to get the chance of winning one of these packages?
Just send a mail with "The Wörld is Ours" including your full address to verlosung@wacken.com
Deadline is the 2nd on November 2012. There´s no right of appeal!
Here is a small teaser + info about the box set:
<iframe width="640" height="360" src="http://www.youtube.com/embed/Xo9C9GSGyog?feature=player_detailpage" frameborder="0" allowfullscreen></iframe>
MOTÖRHEAD
THE WÖRLD IS OURS – VOL 2 – ANYPLACE CRAZY AS ANYWHERE ELSE – Limited D2C Edition Direct To Consumer Fan-Package
The loudest, most real and raucous rock`n`roll Grammy-winning band in the world, Motörhead, will release "The Wörld Is Ours – Vol 2 – Anyplace Crazy As Anywhere Else" the follow up to 2011`s "The Wörld Is Ours – Vol 1 – Everywhere Further Than Everyplace Else" on Sept. 24th in Europe / UK
The centerpiece of this special limited edition is a 12x12" deluxe panel coffee table style photograph book. On 150 pages of high quality paper you will be able to enjoy rare and unreleased photo material, stage shots and backstage impressions of the band, their road crew and the fans.
Steffan Chirazi, editor of the Metallica Fan Club Magazine and independent author shares stories of his personal experiences with Motörhead and allows the reader to dig deeper into their daily routine, filled with anecdotes about the legendary rock`n`roll band.
This D2C fan package also includes "The Wörld Is Ours VOL 2" DVD / BluRay and double CD packed with magnificent Motörmaterial from " The Wörld Is Yours " tour, including the triumphant 2011 Wacken Open Air headline performance as well as highlights from their appearances at the Sonisphere UK festival and Rock in Rio, Brazil.
This unique collector's edition is limited to 1,000 units worldwide with an attractive price of just 69,90€ - so you'd better be quick!
This unique box is only available at:
UDR Shop:www.udr-music.com
Digital Stores:store.digitalstores.co.uk/motorhead