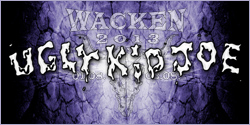 Ugly Kid Joe enlarges the billing
We enlarge our billing with the reunited band Ugly Kid Joe, a real classic of the hard-rock and metal world! The band was founded in 1989 and combines hard-rock, heavy metal, funk and punk music. Well known in the mainstream is the single Cats in the Cradle, while the albums are especially known in the heavy scene.
In 1997 the band broke-up after 3 albums, one EP and several singles. In 2010 the band started to work together again and in 2012 they released the EP Stairway to Hell – the first release after their reunion. This means there is for sure more than enough material for sprawling live shows!
More about the band at Billing/Bands
PS: Our official Spotify Playlist is the best way to get to know our line-up better. Check it out!