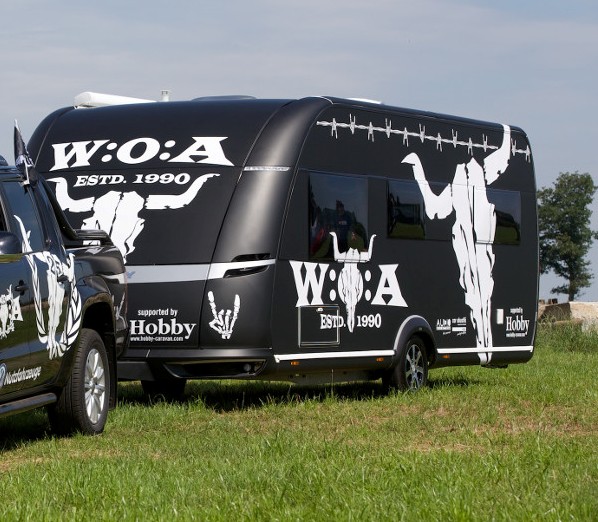 Wacken Foundation - Auction of a W:O:A branded Hobby Caravan
This Caravan in W:O:A design has been provided by the Hobby-Wohnwagenwerk (http://www.hobby-caravan.de) to the Wacken Foundation. Now it will be auctioned for a good cause. The proceeds will be used to support young Metal and Hard-Rock Bands. The auction starts Thursday, 28th August 2014 at 6pm for 10 days and will end on Sunday, 7th September 2014 at 6pm.
The Hobby Caravan Premium 560 CFe has been newly designed with matt black foil and white and prominent Wacken branding and became the special model Hobby Caravan Premium 560 WOA. Trainees of the Hobby training workshop worked for three months on this special project and developed most of the features of the interior design on their own. The living area is now equipped with a comfortable corner sofa, a huge flatscreen and a powerful sound system. LED-illumination, the cool E-guitar with the decent illuminated strings, a Playstation, an air conditioner and an onboard beer pump for your draught beer, complete the W:O:A design of the Caravan. Additionally the refrigerator door of the caravan was signed by several artists during the Wacken Open Air, e.g. by Tom Angelripper from Sodom/Onkel Tom, Mikkey Dee from Motörhead and Bülent Ceylan (german comedian).
The price of the Hobby Caravan Premium 560 CFe ex factory is € 23.420. Because of the additional equipment of the WOA- model, the value of the Caravan is approximately €30.000.
The vehicle is a new, non-registered vehicle with signs of use. The statutory warranty period for the vehicle is 2 years. Excluded from the warranty is the vehicle foliation. Furthermore there is a five-year-guarantee for tightness. This is only valid if there is a yearly inspection of the caravan at an authorized professional retailer (recorded in a service book).
The caravan is currently at the fair "Caravan Salon Düsseldorf". It can be picked up in Wacken starting from calender week 38. Please get in touch with us to arrange a day and time for collection.
The auction starts today at 06:07 pm on ebay and ends in ten days on September 09th, 2014.
Here is the link to the auction: http://cgi.ebay.de/ws/eBayISAPI.dll?ViewItem&item=281424414611
A detailed overview with all technial specs can also be found on ebay.
We would like to thank the Hobby-Wohnwagenwerk for their generous donation of the caravan and we hope for a large number of participants at the auction in favour of young metal and hard rock bands.
Have fun bidding! Your Wacken Foundation!