Important
This article is VERY old (older than 2 years)!
Wacken Foundation Auction: Signed Wacken skull from Peer Elshoff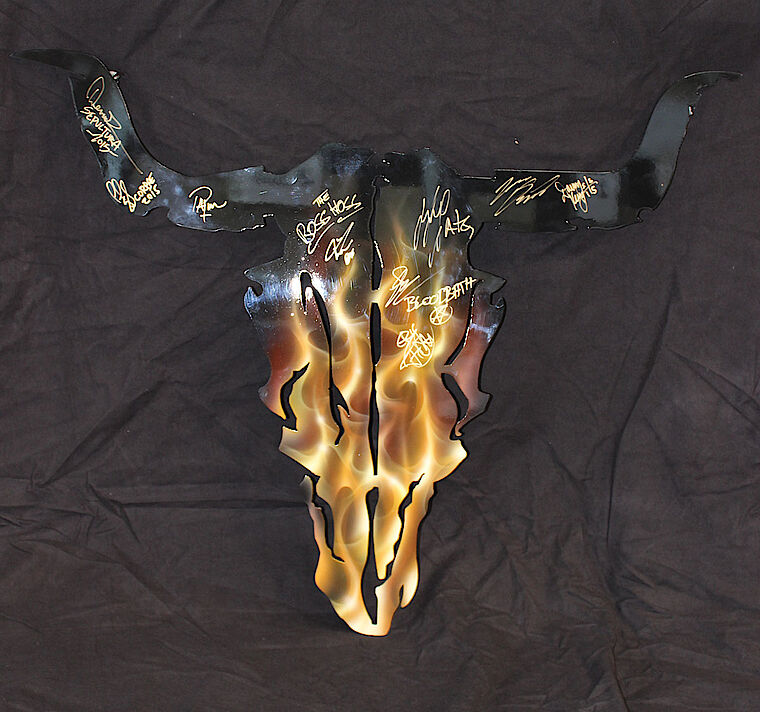 Another auction is about to start. This time it is a Wacken skull of the airbrush artist Peer Elshoff from Kiel. Since 30 years Peer Elshoff designs different items and is one of the custom painting pioneers in Germany. Inspired from the big burning skull between the main stages at the W:O:A he had the idea to create a Wacken skull that is made of 2 millimeters thick steel and cut by lasers. It has been refined with the techniques Real Flames/True Fire.
At the W:O:A 2015 the Wacken skull was exhibited in the artist village and signed by some artists. Besides others some members of the bands The Boss Hoss, Bloodbath, Cannibal Corpse, Suicide Silence and Sepultura placed their signatures on the metal-skull.
The auction starts on Friday, 18th September 2015 at 5:00 pm and will be online for one week. With the income young bands of the Heavy Metal and Hard Rock scene are being supported. HERE is the link to the auction. Try your luck and place your bid!
A big thank you goes to Peer Elshoff who has given this unique Wacken skull to the Wacken Foundation!
We are happy about every bidder. Good luck to all bidders and have fun!