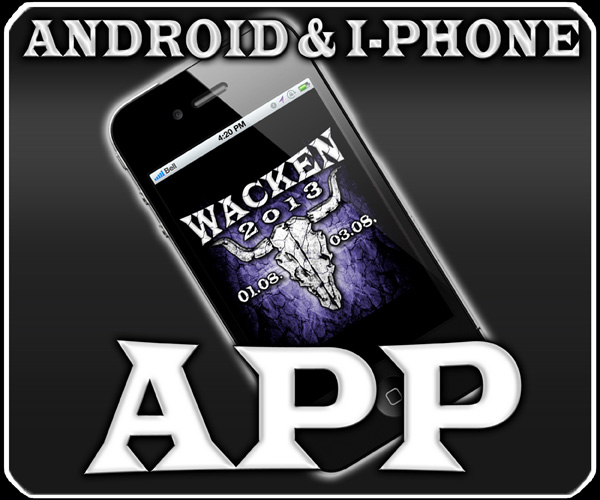 Wacken Online - The complete range of mobile offers at the festival ground
Most of the metalheads have arrived at Wacken or are still on the journey.
For everybody who can´t travel without being online we offer a wide range of online and mobile applications:
Wacken Mobile App:
This festival app shall not be missed on every Wacken visitors smart phone / iphone!
Be always up to date with the Wacken Mobile App:
Running Order, festival maps, news, line up, festival alphabet and handy applications like the flashlight function or the new Food Award (for determining the best food stand of the year)
All additional info and features about the App can be found HERE
Wacken Goes Wireless:
There will be a lot Wi-Fi Hotspots on the festival area. So if you can´t live without being online, we offer so called Wi-Fi (W-Lan) tickets which are available at the W:O:A supermarkets, at the Info Office and the several merchandising stands for a price of 8€ per ticket.
Detailed info can be found HERE
The exact positions of the Wi-Fi Hotspots can be found at MAPS
Wacken FanMail:
If you can´t go without receiving or sending mails and all of it in real Wacken style you should try out Wacken FanMail - The worldwide first and only Heavy Metal mail service!
Become a member of the HeavyMetal community "Wacken" now and save your personal Wacken FanMail adress following the pattern "YourName@wacken.de" and costs 0,99€ per month.
Certainly all functions you know from other mail clients like inbox, calendar or contact list are included. But there are also a few extra features like the current weather forecast for Wacken or a newsfeed from www.wacken.com to keep you up to date.
Your advantages in a short summary:
- Unique E-Mail adress "YourName@wacken.de"
- E-Mail attachments with a capaticity of 100mb (for example music and pictures)
- mobile usability for smartphones via POP3 & IMAP
- modern spam & anti-virus safety
All detailed info can be found HERE