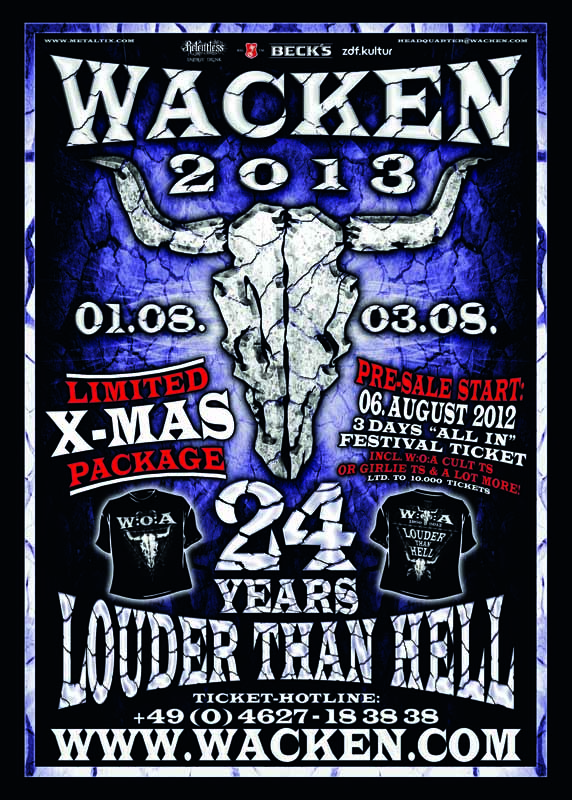 W:O:A 2013 – pre-sale starts
The biggest Metalparty of the year is still in full swing and in spite of the weather difficulties you made the festival to an unbelievable event by your cool-headed manner and the acceptance to not arrive too early. We´re looking forward to celebrate the last hours of W:O:A 2012 with you!
As known from last year we will promptly start the pre-sales of the W:O:A X-Mas Package 2013! And of course we can also announce some amazing acts:
ANTHRAX
10 albums and more than 30 years band history - Anthrax is one of the most known and honored Metal bands worldwide.
It´s been a while since they played W:O:A the last time and 2013 it´s gonna be a blast!
NIGHTWISH
Symphonic Metal Band No.1 – Founded in 1996 and being an underground highlight for some years they had their breakthrough in 2004. Since then, they are one of the most successful bands of the metal-scene.
SABATON
Founded 1999 in Sweden, Sabaton is about to ascend to the throne of Power Metal. Welcome back after 4 years, guys!
ARCH ENEMY
Arch Enemy established themselves as one of the leaders of the Melodic Death Metal scene. Next year they will come back to W:O:A to burn this place.
DORO
German Heavy Metal Queen Doro will celebrate her 30 years anniversary at W:O:A 2013. You can expect a huge highlight show!
LINGUA MORTIS FEAT. RAGE
Rage will be supported by the Lingua Mortis orchestra. And as far as we all know Peavey Wagner and Victor Smolski this will be an amazing highlight.
SUBWAY TO SALLY
Being one of the most-known bands from the medieval genre, Subway To Sally are already kind of an institution at W:O:A. We are happy having them again next year.
AMORPHIS
Playing W:O:A in 2010 last time, Amorphis will play a special show where you can also expect a special acoustic set.
Here are the facts:
24th Wacken Open Air 2013
01.08 - 03.08.2013
X-MAS-Package on sale now!
3-Days-"ALL IN"-Ticket = 120€
incl. sales tax plus 10,- advance booking fee
incl. W:O:A cult T-shirt and much more.
Limited to 10.000 tickets
pre-sale starts on: Monday, 06th of August, 2012 at 00:01 am.
A maximum of 5 tickets can be ordered per person!
As usual you´ll find the tickets on
See you in Wacken 2013 Metalheads – rain or shine